Rockenfeller expects Audi to close gap
| | |
| --- | --- |
| By Steven English | Thursday, June 10th 2010, 15:04 GMT |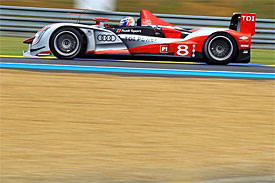 Mike Rockenfeller expects the four-second gap between Peugeot and Audi to close by the time this year's Le Mans 24 Hours race begins.
The 908s were dominant on the opening day of running on Wednesday, while Audi struggled for speed and was only three seconds quicker than the Aston Martin Racing cars.
But Rockenfeller insists that the German manufacturer will close the gap in race trim.
"The gap looks very big but I expect it not to be like that in the race," he told AUTOSPORT. "We know what we have and we don't know what Peugeot is doing. We raced against them at Spa and we just try to estimate what is there speed here at Le Mans.
"The speed they've shown so far is quite good and strong, but I think they focused on that. We are focusing to get the most out of the tyre for the race and things like this. In the end I don't know if it's enough, we will see."
He denied that Audi will be relying on the rain to increase its chances of victory, as was the case for its last win in 2008.
"Rain changes everything, it makes the race more tricky for everyone," he said. "In '08 the rain helped us quite a lot, but I'm not sure that it would be the same this year - it definitely mixes the cards, but for the race we expect dry conditions."
Rockenfeller added that as well as taking the fight to Peugeot, the crew of the #9 R15 - Timo Bernhard, Romain Dumas and himself - will be attempting to overhaul the established lead car of Allan McNish, Tom Kristensen and Dindo Capello.
"First of all, it's the whole team versus Peugeot," said Rockenfeller. "But of course we are all selfish and we want to be the best Audi. We tried that in the previous years as well and it didn't work, for different reasons, so you never can plan it.
"I'm in a different line-up now, with Timo and Roman, which I'm really happy with. We've known each other for quite a long time anyway from Porsche. So far it seems that our performance is good. We hope to be the first Audi, like the more experienced car hopes to be the best, and the same for the #8 car with the new guys.
"From the outside it's the one [#7] car with all the experience and the drivers, and two cars with younger guys trying to beat them. But we try to get the best for Audi. Timo, Roman and myself will try to be the best Audi and try to win the race."