Kristensen: Audi set-up needs time
| | |
| --- | --- |
| By Steven English and Simon Strang | Thursday, June 10th 2010, 12:40 GMT |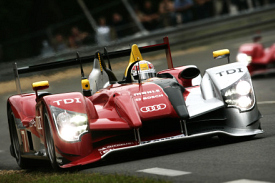 Tom Kristensen expects Audi's pace to improve in today's final qualifying session for this weekend's Le Mans 24 Hours, but admits that the marque is facing a tall order to match Peugeot.
The Peugeot 908s have dominated the run up to the event, sweeping the fastest times in first practice and first qualifying on Wednesday, with the quickest of the Audis nearly four seconds behind.
Eight-time Le Mans winner Kristensen says the German team still hasn't found its way and that it is too soon to know whether it will be able to challenge for victory in the race.
"We have improved," he said. "With the circuit as green as it was, we were not entirely satisfied with the set-up at the moment. But we are losing far too much down the straight - mainly sector two of course, but in all the sectors. Accelerating and top speed it looks like.
"I have a feeling about why, but what we are doing now is looking into it entirely and I would like to know that a little bit more in detail. Because at the moment I cannot say, because we are not necessarily unhappy with the car in that sense."
Kristensen added that the Audis need more track time to work on the deficit to Peugeot, but conceded that the 908s have an advantage across the board.
"We would like it to be dry, we have many changes since last year and we would like to have it a little bit more stable in order to optimise the car," he said.
"Definitely we have improved, but at the moment it looks like Peugeot has improved as well- especially on the fast straights and acceleration zones. Generally they were faster than us in all three sectors yesterday."