Brabham happy with Le Mans start
| | |
| --- | --- |
| By Steven English | Thursday, June 10th 2010, 09:38 GMT |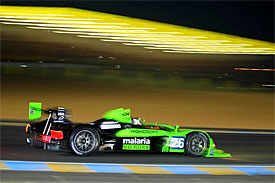 David Brabham declared himself happy with Highcroft Racing's start to the Le Mans 24 Hours week after the HPD LMP2 car provisionally qualified second in class on Wednesday evening.
Although the Highcroft car was more than a second behind the Strakka Racing HPD, last year's 24 Hours winner is confident that the gap will close when Highcroft starts pushing for qualifying times.
"We ran pretty heavy on fuel all night and never really went for a qualifying time," Brabham said. "Considering that, we weren't that far away so I think that is a pretty good sign.
"Today was to try and learn the new aero kit because it is very different than what we are used to. We were fairly quick straight away but we made some good progress throughout the night. The main focus was to get a race balance and understand this package that we have."
The HPD has begun the week as the clear favourite for LMP2 class honours with the third car in class, the ASM Ginetta-Zytek of Warren Hughes, Miguel Amaral and Olivier Pla, four and a half seconds slower than the Highcroft car.
"The HPD cars have quite a decent gap over the opposition," Brabham added. "Strakka have run a couple of races with this package and know it a bit better than us so we are in catch-up mode.
"We got a lot of information today and I am confident we will have a reasonable set-up for the race. We made some changes at the end which didn't work so well, but it has given us a bit of direction of where to go for tomorrow."