Farfus: BMW can aim for class win
| | |
| --- | --- |
| By Stuart Codling | Wednesday, June 9th 2010, 13:58 GMT |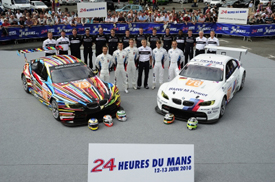 World Touring Car Championship star Augusto Farfus is confident that BMW will perform well on its GT2 M3's Le Mans debut, and paid tribute to the ability of his ultra-experienced team-mates to develop the new car.
"I'm learning. It's a pretty new environment for me," he told AUTOSPORT. "It definitely has something special in the air. I did the Nurburgring 24 Hours, which was an exciting experience, but this is the biggest 24-hour race on the planet.
"I'm also pleased to take part in a new project for BMW, helping to develop a totally new car. I'm glad to have Jorg [Muller] and Uwe [Alzen] on the team because they're very experienced and give good feedback. I have to take this chance to learn the race with brilliant drivers like them."
Farfus insisted that the engine's smaller restrictor plate, which reduces output by around 10bhp, was just one of many unknowns facing BMW in the race.
"The ACO has reduced the restrictor by a very small amount," he said. "We don't yet know what the effect will be for us. Everything's really new for us and we have to learn about the car.
"Of course, when you drive for a big brand like BMW you always have to aim for victory, but you have to be realistic. We don't know how our competitors are going to perform, how long the stints are going to be, the fuel consumption.
"This is a race where you cover something like 4000 kilometres and our car has never run for such a long distance. So we aim for a win, but a podium would be a superb result."