Mercedes warned over engine supply
| | |
| --- | --- |
| By Michele Lostia and Pablo Elizalde | Wednesday, June 9th 2010, 09:22 GMT |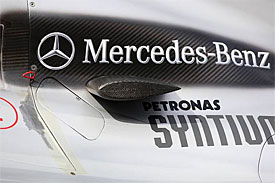 Mercedes team boss Ross Brawn has told the German car maker to think 'long and hard' before considering supplying engines to another outfit.
Mercedes currently supplies customer engines to McLaren and Force India, apart from running its own F1 team following the purchase of world champion Brawn GP.
Red Bull Racing, using Renault power units, was also keen to secure a deal with Mercedes for this year and has admitted the equalisation of engine performance would be a key factor in deciding to stick with Renault or not after this season.
Brawn, however, believes Mercedes is already supplying engines to as many teams as it can, and he reckons it would be a mistake to add another one.
"In my opinion, as constructors, we at Mercedes would need to think long and hard before adding another customer to our list," Brawn told Autosprint magazine.
"I think we are on the limit as far as supplies are concerned. We must make sure there is always a Cosworth able to sell its engines, it's not the duty of a car manufacturer.
"As for the power, I don't know. The truth is that there is no procedure that determines precisely the parameters. We would be fine with placing all the engines on the bench under the FIA's supervision.
"But measuring the power is only a part of the problem. There's the cooling, the driveability, the fuel consumption. And just recently the boss of Renault's engine guys has said that their V8 may not be the most powerful, but it's the best from many other aspects..."