Q & A with Martin Whitmarsh
| | |
| --- | --- |
| | Tuesday, June 8th 2010, 12:46 GMT |
In McLaren's latest online media briefing ahead of this weekend's Canadian Grand Prix, the team's principal Martin Whitmarsh took the opportunity to explain the recent team order situation between Lewis Hamilton and Jenson Button in Istanbul.
Whitmarsh also shone a light on why Montreal could be the most exciting race of the season so far, how McLaren intends to approach the race, and with his FOTA hat on, what chance there is of fans seeing motorsporting legends Valentino Rossi and Sebastien Loeb in F1 in the near future.
Q. Can you put us in the picture concerning what happened between Jenson Button and Lewis Hamilton in Turkey. How soon did Jenson receive the message not to pass Lewis before he actually did, and why did Lewis get that message?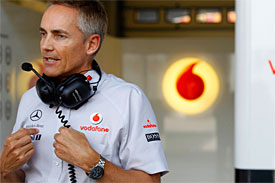 Martin Whitmarsh: In the answer to the first bit, shortly after he was told that Jenson wouldn't overtake him, Jenson did overtake him. Phil Prew gave an opinion to Jenson and as it turned out his opinion was wrong. It's as simple as that.
They are racing drivers and from the outset they had a challenge in that race. The race was a bit quicker for the Red Bulls, and for the McLarens, than expected so we were, from the early days, consuming more fuel than we needed to. So we had to find ways to save fuel. Inevitably there is a dilemma as you get to the end of a race about how hard you can race.
I think we had it amply demonstrated that a team and their drivers can get that wrong, but there is no doubt that both of our racing drivers want to win and they were being told to look after fuel. But as a consequence of that Phil Prew had the opinion that Jenson wouldn't overtake and clearly that was probably a wrong one. I don't think it was expected that Lewis would lift as much in Turn 8, and for Jenson ? who is a racing driver ? when he saw quite a big lift he thought it was his opportunity, lined himself up and subsequently made the pass.
Q. Following on from that how do you handle the situation with Lewis and what has he said himself?
MW: I'd say I've handled the situation. They know that they are racing drivers. Lewis was surprised by that information. He asked a question, Phil - who is the chief engineer - gave an instinctive and immediate response which was that he didn't think that Jenson was going to pass. He knew that they had both been given the same instruction to save fuel, but I think Lewis understood that. Lewis wasn't about to give up first place easily and I think made a fairly robust overtake to ensure that he remained in the lead. Thereafter, I think the two of them decided that there was a reasonably fair and equitable equilibrium as they had the blend of looking to ensure that they finished comfortably with enough fuel and with cars intact.
Q. With your FOTA hat on, do you think Texas has the potential to succeed in the US where previous F1 ventures have failed?
MW: In truth I don't have any more detail on the Texas race than you. What is clear now is that all of the teams want very much to support the development of Formula 1 in North America. It's exciting to go to Korea or India or some of these other places but we recognise that a large market is North America, we recognise that F1 collectively hasn't made a success of North America, and what is important this time is not so much the venue, but that when F1 returns it's there for a sustained period of time.
Maybe it's more than one race, maybe it's two different venues. I think the teams have got to commit sending cars over there; perhaps a cavalcade of cars through Times Square or down Sunset Boulevard. We have got to go to America and market ourselves. Formula 1 has been used to being pulled into markets that badly wanted us there, North America frankly doesn't need F1. I think it is for us to go and prove that this is an interesting sport and spectacle and something that is worthwhile them taking an interest in.
Q. You had Red Bull under real pressure in Istanbul. How have you closed the gap and why has no one else been able to do the same thing?
MW: Well I think undoubtedly Red Bull still had an advantage on us in qualifying, but I think it was clear that in the race we had a faster race pace and I think that was very encouraging. It was really just down to good hard solid work from us here developing the car. We try to bring small incremental improvements to the car on a continuous basis. When you look at the pace of Red Bull back in Barcelona, then it is very easy to go and look for the 'Eureka!' development that is going to catch you up.
But in my experience you have got to work away at finding down force, reducing drag, finding balance, and that's what we've done and will continue to do. Even so Red Bull haven't conveniently stood still for us, they are a good team and they are developing. I think we pride ourselves at trying to develop quicker than our competitors and I think we proved that last year. We are going to try and do it again this year and keep the pressure on them. We have got two great racing drivers of course and that always helps and I think the team is working well.
Q. Do you regard Canada and Valencia as must wins given the tracks should favour your car?
MW: They are certainly nice to win, but they all are. We hope we are strong, we have got a few more development items on the car for this weekend. We are going to try and make a bit more progress with our car ? it ought to be where we are quick. It is obviously where Lewis won his first grand prix a couple of years ago, so it's a happy hunting ground for him.
Similarly Valencia, it's undoubtedly the case that Red Bull still is very, very strong in long high-speed corners, and the next two grands prix don't feature a lot of those. So we would hope that we will be strong there, but at the same time whilst we are developing our car, you never know what Red Bull, Mercedes, Ferrari are going to turn up with. Maybe they will turn up with a larger step forward than us. I don't think we ever consider anything as a 'must-win' but the next two circuits are ones where I hope we will be strong.
Q. What have you got on the car this weekend?
MW: We have got a new front wing again. In truth we had one as part of the package in Istanbul, it didn't work, and we think we've understood that. So we've modified it and hopefully that will work. We have new rear wing lower element and some other modifications to diffusers etc. We have a reasonable aerodynamic package which we hope will just a take us a few steps further forward.
Q. Are FOTA still pushing for third cars, given all the attention on Valentino Rossi in a third Ferrari?
MW: I don't think they are right now, following last weekend I suspect it's been stalled for a few races! Formula 1, undoubtedly, certainly in my mind, is the pinnacle of motor racing technology and in terms of the quality of the field and drivers.
Apart from the greats that we already have in our sport it would be fantastic for [World Rally champion] Sebastien Loeb, Valentino Rossi, [NASCAR champion] Jimmie Johnson or whoever to be participating in Formula 1. I think it would be natural for them to consider the opportunity and it would be fantastic for F1. I've got no doubt that all of those guys have got incredible talent and they would, if they turned their mind to it and gave themselves enough focus and time, be very competitive F1 drivers.
Q. But is the third car concept still on the FOTA table?
MW: It hasn't been discussed recently. A third car is really an idea if you get a reduced number of teams. FOTA is working hard to find ways in which we can encourage and allow all of the teams that are currently members to develop and flourish. If you introduce a third car - McLaren, Red Bull, Ferrari, Mercedes would all be probably happy to - I think in fairness to the smaller teams it would only disadvantage them further.
I think that in the event that the number of teams in the sport dropped below ten, and at the moment we are hoping it is 13 next year, then it would be a fantastic opportunity. I think if we then attached the third car to some regulations that encouraged some of these very competent but non-F1 experts to participate I think it would create some interesting spectacle and public interest.
Q. Following Red Bull's issues in Turkey, is there a sense within McLaren that this is now the time to take advantage of the momentum you gained in Istanbul?
MW: I think we've pulled ourselves up in the last few races. We have made some mistakes this year and we could have done a better job, but I think we do have some good momentum and there is a strong feeling within the team. But we don't underestimate Ferrari, Red Bull, Mercedes. They are all capable of fighting back ? they have got good people, good drivers.
This is really, I suspect, going to be an epic F1 season. I think a few races ago people were predicting a Red Bull run-away, but now they suspect it is going to be a lot closer than that. We've had a number of different winners this year, most of the races have been great spectacles and predicting even the outcome of the coming weekend is impossible for any pundit to do and that is how the sport should be. That is what makes it exciting for all of us within the teams.
I would love to be confident that we could go and win in Montreal but I am not that confident, I believe it is possible and I hope we can. But the fact that I can't, then I suspect that any external pundit is unable to predict the outcome of this weekend's race. Incidentally the latest forecast suggests that it could well be weather influenced as well which will stir things up even more.
But even without that intervention I think the potential is for an exciting race weekend. It's one where you've got to look after your brakes, it's a challenging braking circuit and it normally springs a few more bumps during the course of the Canadian winter, and we've had two of them since we last visited so we don't exactly know what we are going to get. That's how it should be in Formula 1.