Liuzzi to get new chassis for Canada
| | |
| --- | --- |
| By Jonathan Noble | Tuesday, June 8th 2010, 09:37 GMT |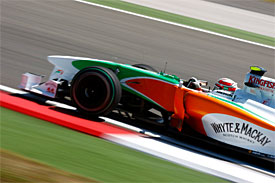 Vitantonio Liuzzi is to change chassis for this weekend's Canadian Grand Prix as he bids to get on top of the qualifying troubles that have marred his recent performances.
Liuzzi has struggled to find a good set-up on his VJM03 in the last few races and, with the team having found some damage on the chassis he used since Spain, he is to revert to the one he used in the first four races.
"The last few races have been pretty tough as we've been struggling with a general lack of grip that makes it hard for me to give the maximum," said Liuzzi. "Monaco was OK and I thought we had solved the issues so it was quite frustrating in Turkey that I couldn't make the most of our new development items.
"We've put in some long hours at the factory and found some minor damage on the chassis that we picked up in Monaco. We thought we had fixed it but as a precaution we are switching back to the chassis I used in the first four races. We'll look at the chassis again back in the factory and see if we can find any other areas we need to address."
Force India will this weekend continue work on its own F-duct, which the team has dubbed the 'Switchable Rear Wing' (SRW) - and that means that reserve driver Paul di Resta will sit out driving duties once more to allow Liuzzi and Adrian Sutil the maximum cockpit time.
Speaking about the situation, di Resta said: "I'm not driving this time out in Canada as Adrian and Tonio need some more time in the car. It's been a couple of years since they've driven at the track and, as it's such a specific track with the low downforce and tight hairpins, they will benefit from some extra track time to refamiliarise themselves. Also we've got some more work to do on the SRW.
"I'm comfortable with sitting out the session as I'll be back out in Valencia. As usual I'll be participating in the meetings and walking the track - I've never been to Montreal so the experience will be good.
"During the sessions I sit on the pit wall to listen into the discussions but also to help with spotting and any feedback the team might need. I'm feeling really integrated and even when I'm not driving there's still plenty I can contribute."