Todt denies WRC/IRC merger talk
| | |
| --- | --- |
| By David Evans | Tuesday, June 8th 2010, 08:25 GMT |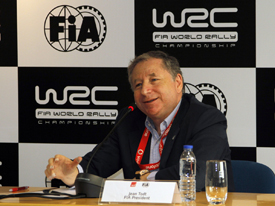 FIA president Jean Todt has poured cold water on speculation that the World Rally Championship and the Intercontinental Rally Challenge could join forces.
There had been rumours of a merger between the two series - particularly after stories of both championships including the Monte Carlo Rally in their schedules emerged earlier this season.
Todt admitted he would like to see the Monaco-based Alpine event back on the WRC calendar, but he said there was no news on such a significant change to the championship.
Todt said: "From what I know, there is only one World Rally Championship category and it's not the responsibility of the FIA, except on sporting rules and security and safety, to be involved in other series.
"The IRC is doing a good job, but they have nothing to do with the FIA [World Rally] Championship. It's [the IRC] a completely private, commercial series.
"Considering Monte Carlo, I must say, personally, I am sorry Monte Carlo is not in the WRC. And it's a decision for the Automobile Club de Monaco. [The decision] belongs totally to them and I can hope that in the future they accept the invitation of the FIA to be included in the World Rally calendar."