Briscoe beats Patrick to Texas win
| | |
| --- | --- |
| By Matt Beer | Sunday, June 6th 2010, 02:59 GMT |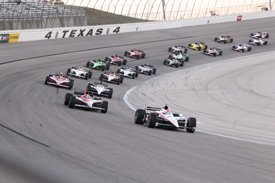 Ryan Briscoe got his hitherto messy IndyCar season on track by beating the impressive Danica Patrick to victory at Texas Motor Speedway.
In one of the most competitive performances of her career so far, Andretti Autosport driver Patrick emerged as polesitter Briscoe's main rival in the second half of the race, but the Penske driver was able to fend her off and clinch his first win of 2010.
Ganassi's Dario Franchitti led much of the race before fading to fifth, while damage from debris and a failed fuel gamble left Will Power (Penske) back in 14th - which allowed Franchitti to take over the championship lead.
To add to a strong day for Andretti Autosport, Marco Andretti won a big battle with Scott Dixon (Ganassi) to claim third.
Briscoe held the lead throughout the opening stint, despite some concerted pressure from Franchitti, and eventually started pulling away as Power took second from the Indy 500 winner.
But Franchitti hit the front during the first pitstops - which took place under a debris caution - as Briscoe lost time and fell to fifth.
That made Power Franchitti's main challenger for a while, until a lap 97 yellow caused by a terrifying fiery crash for HVM's Simona de Silvestro, who escaped with minor burns to her hand. Power collected debris under his car during the caution and had to make an additional stop for repairs.
By then Briscoe was back up to second, chasing Franchitti. Their battle was interrupted on lap 129 when Mario Moraes (KV) pinched a furious Helio Castroneves (Penske) into the wall, and Conquest driver Bertrand Baguette's race also ended as his bid to thread between the two crashing cars failed. It had already been a difficult night for Castroneves, who was struggling with communication and handling problems and had dropped to the upper midfield.
Fazzt's Alex Tagliani and Power chose not to stop under the consequent yellow so had brief turns in the lead. Franchitti and Dixon took the restart right behind them, but both faded during the next stint - dramatically in Franchitti's case, as he tumbled right back to 13th while Briscoe and Patrick started to squabble over the lead, the latter having been among the frontrunners from the outset.
Patrick made her final stop a lap earlier than Briscoe and momentarily swept into the lead as her rival got back up to speed, but she could not hang on for long before Briscoe inched past to reclaim first place. As they hit traffic, Briscoe started to build an advantage again, eventually winning by 1.4 seconds.
Power got back up to third when the others made their last stops, but never got the yellow he needed to stretch his fuel load to the finish, so had to make a late 'splash and go'.
That left Andretti and Dixon to race for third until the end, while Franchitti regained some speed late on and took fifth ahead of Tony Kanaan (Andretti).
Both Ryan Hunter-Reay (Andretti) and Alex Lloyd (Dale Coyne) dropped from the top ten to the back due to missing their marks at pitstops, before surging back to finish seventh and eighth, followed by Panther's Dan Wheldon and Foyt's Vitor Meira.
EJ Viso was a top five factor for a while before slipping back to 11th. He was the only KV driver running at the flag - Takuma Sato having crashed early on, suspecting a suspension failure.

Pos  Driver               Team               Gap
 1.  Ryan Briscoe         Penske             228 laps
 2.  Danica Patrick       Andretti           + 1.4629s
 3.  Marco Andretti       Andretti           + 2.3162s
 4.  Scott Dixon          Ganassi            + 3.0770s
 5.  Dario Franchitti     Ganassi            + 7.5882s
 6.  Tony Kanaan          Andretti           + 8.0664s
 7.  Ryan Hunter-Reay     Andretti           + 13.9390s
 8.  Alex Lloyd           Dale Coyne         + 14.3084s
 9.  Dan Wheldon          Panther            + 15.0859s
10.  Vitor Meira          Foyt               + 15.8250s
11.  EJ Viso              KV                 + 18.8687s
12.  Hideki Mutoh         Newman/Haas        + 23.0449s
13.  Tomas Scheckter      Dreyer & Reinbold  + 1 lap
14.  Will Power           Penske             + 1 lap
15.  Sarah Fisher         Sarah Fisher       + 1 lap
16.  Raphael Matos        De Ferran Dragon   + 2 laps
17.  Mario Romancini      Conquest           + 2 laps
18.  Alex Tagliani        Fazzt              + 3 laps
19.  Justin Wilson        Dreyer & Reinbold  + 3 laps

Retirements

     Helio Castroneves    Penske             129 laps
     Mario Moraes         KV                 129 laps
     Bertrand Baguette    Conquest           129 laps
     Milka Duno           Dale Coyne         116 laps
     Simona de Silvestro  HVM                97 laps
     Takuma Sato          KV                 56 laps
     Jay Howard           Sarah Fisher       37 laps