Interview with David Coulthard
| | |
| --- | --- |
| By Glenn Freeman | Saturday, June 5th 2010, 21:45 GMT |
David Coulthard's DTM switch got off to a low-key start in the opening rounds of the German-based touring car series, but at Lausitz on Saturday he became a top eight contender for the first time.
AUTOSPORT was there to hear the ex-grand prix driver's thoughts about his rapid progress.
Q. What's been the key to success so far this weekend?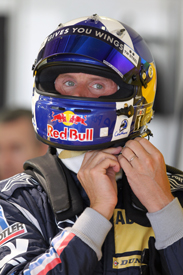 David Coulthard: I think it's just the nature of the track, the short corners, the stop/start, it suits a little bit more the driving style I have. At places like Hockenheim you've got long corners, and Valencia, and it's easy to go over the limit of the tyre in DTM. When you have less load on the tyres it's easier to find the limit.
Q. What can you achieve in the race?
DC: To finish the race is the priority, I'll learn more with every lap and if I can finish in a good place of course I'll be happy, but if I don't, then making it to the finish is the main thing. I've come all this way and left the family at home, so I don't want to crash at the first corner, I want to get my money's worth.
Q. Are you worried about being around the fast guys at the first corner?
DC: I'm not scared of them - they should be scared of me!
Q. Were you a bit disappointed with your Q3 result?
DC: You always want more, but whatever happens now I'm already satisfied with the progression this weekend. I'm not greedy, I'm enjoying this weekend, I don't want to get in the way of anyone's championship or anything like that, I just want to concentrate on myself and make some progress.
Q. Did you find it easier to find the right set-up this weekend?
DC: The car has understeer, but that doesn't seem to cost you lot of performance here in the lap. At Valencia you lost a lot of time in the corners with it. It's just building up experience with these cars and these tracks. When I had some oversteer at the end of qualifying I was really slow, so I've learned that it's not a good thing here, and all the understeer I was complaining about was a good thing. It just seems to help keep the car stable.
Q. How are you dealing with throwing the car over the kerbs?
DC: I'm not that comfortable banging over kerbs, it just seems wrong. It doesn't seem nice for the car, when you hit the kerbs at Turn 1 or 2, I feel sorry for the car because it must hurt somewhere. But that's what you do with a touring car.
Q. Has it been easier here because you don't have Formula 1 memories of this track like you did at Hockenheim and Valencia?
DC: Maybe. I have no preconception here, no idea of the line, the braking point, I just had to go on instinct. If you look at pre-season testing, all the tracks except Valencia, I never knew them, I just went out and got on with it.
Q. Are you still at the point where you don't know why you are quick or slow in one of these cars?
DC: Yeah. I go through some corners and I think 'that was nice', then I look at the lap delta and I lost time. Touring cars have such a special feeling, it's such a special way of driving, that I definitely don't know the real skills for it. I'm just trying to use the team's information, and pick up things from [Mucke team-mate] Maro [Engel] as well because he has good experience.
Then after the session we get Jamie [Green]'s data and the other '08 car data, so that really helps a lot. You see where you have to brake less, or turn in earlier. In Formula 1 you only have your team-mate, whereas here you have four or five guys, which helps.
Q. Has this weekend been a bit of a relief for you?
DC: Not really, I think the expectation has come from other people that I would be doing more. I had no expectations at all. Of course I would prefer not to be last, but if I am, what can I do? It doesn't change anything when I go home - my son still loves me, my career in Formula 1 still stands, all it means is that I didn't adapt to touring car racing.
This is a more positive weekend, and hopefully it will finish more positive as well. But this is an experiment for me. It's a pleasure to have the opportunity to have this experiment, because a lot of guys that would love to try the DTM don't have the chance, but I do. I'm not going to put any pressure on myself, because I did that for lots of years. I can handle the disappointment, even if you can't.
Q. Are you thinking about points tomorrow though?
DC: Where do they go down to?
Q. Eighth, like the previous F1 system.
DC: Okay, like old F1. Let's try to stay in eighth place then.