Kyle Busch earns Pocono pole
| | |
| --- | --- |
| By Diego Mejia | Friday, June 4th 2010, 22:55 GMT |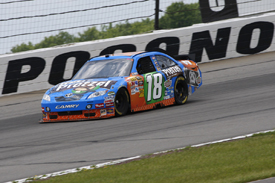 Kyle Busch will start his 200th NASCAR Sprint Cup Series race from pole position after setting the pace in qualifying for Sunday's event at Pocono.
The Joe Gibbs Racing driver has not generally regarded the 2.5-mile tri-oval as one of his best tracks, but an impressive lap with a time of 53.102 seconds at an average speed of 169.485 mph, placed him at the front of of the field for Sunday's 500-mile race.
Busch beat the previous benchmark lap set by Richard Childress Racing's Clint Bowyer by more than a tenth of a second, running stronger through the very quick 90-degree Turn 2.
On Sunday the 25-year-old will become the youngest driver ever to reach 200 starts at NASCAR's top level and said he was looking forward to translating his pole into a winning celebration on race day.
"To start on the pole for race 200 is going to mean a lot, and of course, it will mean even more if we can win this thing on Sunday," said Busch after claiming his second pole of the season.
Bowyer's front row starting position will be his first since he won from pole position at Loudon in 2007, while Hendrick Motorsports' Dale Earnhardt Jr and Penske's Kurt Busch will follow on the second row of the grid.
Three-time Pocono winner Denny Hamlin rounded out the top five, while Stewart-Haas' Tony Stewart - winner a year ago at the track - was sixth ahead of Earnhardt Ganassi's Juan Pablo Montoya in seventh.
Reigning champion Jimmie Johnson had been quickest earlier in practice but ended up only 25th fastest. Ahead of him Max Papis had his best qualifying effort of the season, placing his car 20th on the grid as the best of the non-guaranteed drivers.
Terry Cook and Ted Musgrave both failed to make the field.
Pos  Driver              Car        Speed       Time     Gap
 1.  Kyle Busch          Toyota     169.485mph  53.102s
 2.  Clint Bowyer        Chevrolet  169.138mph  53.211s  + 0.109s
 3.  Dale Earnhardt Jr   Chevrolet  169.097mph  53.224s  + 0.122s
 4.  Kurt Busch          Dodge      168.963mph  53.266s  + 0.164s
 5.  Denny Hamlin        Toyota     168.868mph  53.296s  + 0.194s
 6.  Tony Stewart        Chevrolet  168.84 mph  53.305s  + 0.203s
 7.  Juan Pablo Montoya  Chevrolet  168.805mph  53.316s  + 0.214s
 8.  Kasey Kahne         Ford       168.713mph  53.345s  + 0.243s
 9.  Ryan Newman         Chevrolet  168.669mph  53.359s  + 0.257s
10.  Jeff Gordon         Chevrolet  168.612mph  53.377s  + 0.275s
11.  Brad Keselowski     Dodge      168.300mph  53.476s  + 0.374s
12.  Joey Logano         Toyota     168.240mph  53.495s  + 0.393s
13.  Jeff Burton         Chevrolet  168.205mph  53.506s  + 0.404s
14.  Mark Martin         Chevrolet  168.124mph  53.532s  + 0.430s
15.  Matt Kenseth        Ford       168.036mph  53.560s  + 0.458s
16.  Marcos Ambrose      Toyota     167.973mph  53.580s  + 0.478s
17.  AJ Allmendinger     Ford       167.863mph  53.615s  + 0.513s
18.  Jamie McMurray      Chevrolet  167.823mph  53.628s  + 0.526s
19.  Sam Hornish Jr      Dodge      167.785mph  53.640s  + 0.538s
20.  Max Papis           Toyota     167.679mph  53.674s  + 0.572s
21.  Elliott Sadler      Ford       167.538mph  53.719s  + 0.617s
22.  Kevin Harvick       Chevrolet  167.529mph  53.722s  + 0.620s
23.  Casey Mears         Toyota     167.510mph  53.728s  + 0.626s
24.  Regan Smith         Chevrolet  167.476mph  53.739s  + 0.637s
25.  Carl Edwards        Ford       167.392mph  53.766s  + 0.664s
26.  Jimmie Johnson      Chevrolet  167.392mph  53.766s  + 0.664s
27.  Martin Truex Jr     Toyota     167.212mph  53.824s  + 0.722s
28.  Greg Biffle         Ford       167.178mph  53.835s  + 0.733s
29.  David Reutimann     Toyota     167.115mph  53.855s  + 0.753s
30.  Joe Nemechek        Toyota     167.047mph  53.877s  + 0.775s
31.  Scott Speed         Toyota     166.982mph  53.898s  + 0.796s
32.  Michael McDowell    Toyota     166.976mph  53.900s  + 0.798s
33.  Paul Menard         Ford       166.821mph  53.950s  + 0.848s
34.  Dave Blaney         Toyota     166.738mph  53.977s  + 0.875s
35.  David Ragan         Ford       166.098mph  54.185s  + 1.083s
36.  JJ Yeley            Dodge      165.972mph  54.226s  + 1.124s
37.  David Gilliland     Ford       165.929mph  54.240s  + 1.138s
38.  Travis Kvapil       Ford       165.865mph  54.261s  + 1.159s
39.  Chad McCumbee       Toyota     165.688mph  54.319s  + 1.217s
40.  Tony Raines         Chevrolet  165.411mph  54.410s  + 1.308s
41.  David Stremme       Ford       165.277mph  54.454s  + 1.352s
42.  Bobby Labonte       Chevrolet  165.116mph  54.507s  + 1.405s
43.  Terry Cook          Chevrolet  164.510mph  54.708s  + 1.606s
44.  Robby Gordon        Toyota     164.456mph  54.726s  + 1.624s
45.  Kevin Conway        Ford       161.513mph  55.723s  + 2.621s