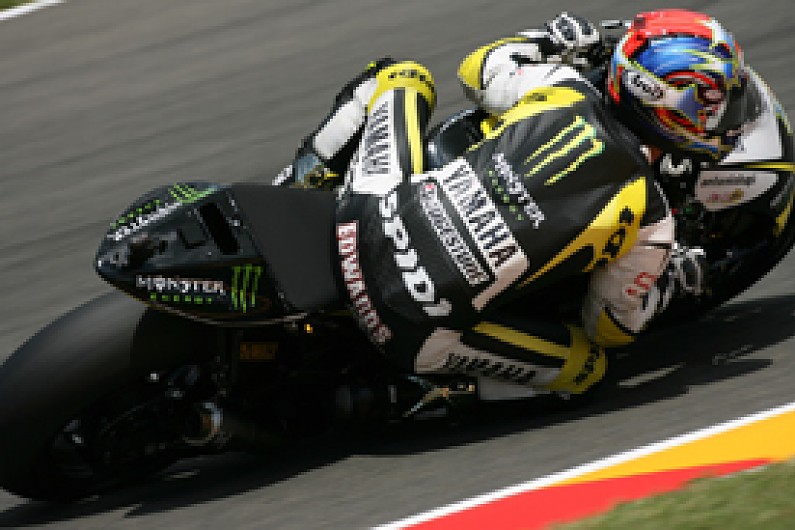 Colin Edwards declared free practice at Mugello his best session of the MotoGP season so far after taking fourth place.
A tough start to 2010 has seen the Tech 3 Yamaha rider finish no higher than eighth and start no higher than seventh in the three rounds so far, but he made a breakthrough in Italy today.
"I'm really happy with today because the first three races have not been easy at all," said Edwards. "Nothing had worked at all so far this season, so basically I completely changed the set-up of the bike today.
"I just told my team to change the set-up so it was completely the same as Mugello last year when I had my best result at this track. We changed riding position and got my weight moved forward because I've been having a problem keeping weight on the front this season.
"Now it just feels so natural and the bike does exactly what I want it to do. When I want the bike to do something it actually does it instead of me waiting and wondering why it didn't work. Now it just turns and it feels like I'm spending much less time on the side of the tyre. I turn in now really quickly and don't run wide or have to work hard to get the bike round the corner.
"I want to say a big thanks to Tech 3 and Yamaha because it feels like my bike again and I'm riding with much more confidence."
His team-mate Ben Spies was only slightly slower in sixth as he learned the track.
"There are a couple of corners that are really difficult to learn and it can take a while to get into a rhythm," said Spies. "But coming here on the back of a couple of bad results and being immediately this fast on such a technically challenging track is really good for me.
"It doesn't feel like I should have been sixth and I guess that is a good sign. I thought I was doing fine so to see I was sixth, I was blown away with that because I thought I'd be about tenth or just outside the top ten."
He added that he had some ankle discomfort from his Le Mans accident still, but that it was not impeding him on the bike.
"There's quite a bit of ligament damage but the only time I really feel it is when I'm trying to tuck in tight on the straight," Spies said. "It's not a major injury but it will take a few weeks to fully recover. On the bike it hurts but it's not slowing me down."