| | |
| --- | --- |
| Stoner optimistic about fork solution | |
| | |
| --- | --- |
| By Matt Beer | Friday, June 4th 2010, 16:36 GMT |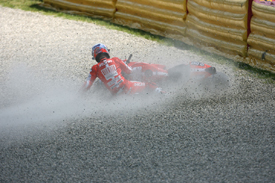 Casey Stoner believes a return to an older fork design on his Ducati will solve the problem that has caused him to crash out twice in the opening three rounds of the 2010 MotoGP season.
But the Australian admitted that he did not get much chance to try the set-up before crashing early in free practice at Mugello today and having to revert to a standard bike.
"I think I only managed three proper laps and none of them were decent," said Stoner.
"I had a crash at the start, which obviously didn't help. Basically when I went to grab the brakes at the Bucine corner there was nothing there. I tried to tip the bike into the corner but she was skipping wide so I just had to run her into the gravel. Stones got everywhere and that kind of stuffed that bike up for the rest of the session.
"It was a shame because we'd switched back to the old forks on that bike and even though I only had a couple of laps on them it was enough to make me want to use them on both bikes tomorrow. The feel with them is more aggressive but we have feel.
He said the issues that led to his Qatar and French Grand Prix crashes started to creep back when he was forced to revert to a bike with 2010 forks.
"The other bike had the new forks on but I just don't have the same confidence with them and I was losing the front in the same kind of corners that I have been in the last races," Stoner admitted.
"Nothing we tried seemed to work today, it was just one of those days. All we can do is start again tomorrow - hopefully the weather stays good because we need laps."