Teams expect 2011 tyres test in summer
| | |
| --- | --- |
| By Jonathan Noble and Pablo Elizalde | Thursday, June 3rd 2010, 09:49 GMT |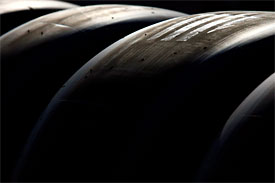 Mercedes GP boss Ross Brawn says he expects teams to be able to test the 2011 tyres before the current season is over.
But Brawn says it is important the tests are carried out without the need to rebuild their testing teams following the introduction of the testing ban, which forced teams to dismantle them.
"There has got to be some testing with the new tyre supplier, whoever it is, so I think late summer and early winter there will be some tests organised with the new tyre supplier," said Brawn.
"But again, we must try and accommodate that within the teams we have. We can't afford to go out and start rebuilding test teams again."
Brawn also said the 2011 tyres are likely to be very similar to the ones supplied by Bridgestone now.
"The teams have together produced a technical specification of the tyre we want," he said. "So there is a document that we have all contributed to which is a broad spec of the sort of tyre that we want which means there is a single directive to the new tyre supplier of the type of tyre that is needed.
"That means we can continue with the development of our cars. Our cars are being designed around the current tyres because we have no other information.
"So I think everybody wants a tyre to come in that has similar construction characteristics to the current tyre, whether the compounds are quite the same is another matter."
Teams are yet to decide who will be Formula 1's tyre supplier next year, and an expected deal with Pirelli did not materialise during last weekend's Turkish Grand Prix.
Michelin representatives flew to Istanbul to talk to the teams and make it clear it was still interested in the deal.
Team boss Peter Sauber stressed that, whichever manufacturer is chosen, an agreement must be reached soon.
"I hope we have a solution before Canada," Sauber said.
"It is not an easy situation this tyre situation, but it is important we have a tyre supplier for the next season and I think it is important to have a sole supplier tyre."
Renault team principal Eric Boullier said the French car maker would prefer Michelin, but made it clear that the F1 team would be happy with either supplier.
"Let's say historically Renault could prefer Michelin because they are both French companies, but I don't think there is a preference for the Renault F1 team," said Boullier.
"It is clearly the best offer or the best package for F1 in this paddock that would suit us, now it is up to them to decide if they want to step in the next week. We have to plan our development for next year and we need wind tunnel tyres."