Q & A with Mike Gascoyne
| | |
| --- | --- |
| By Matt Beer | Wednesday, June 2nd 2010, 17:55 GMT |
Lotus announced today that it has recruited Force India's design director Mark Smith as its new technical director, and that fellow Force India technical personnel Marianne Hinson and Lewis Butler were also heading to the Norfolk-based squad.
The news came just hours after Force India reiterated that it was pursuing legal action against Lotus in a continuation of the Aerolab case, making it an interesting day for the two teams.
But as Lotus's chief technical officer Mike Gascoyne told AUTOSPORT, his focus was on how big a step forward his team could make with its new recruits on board.
Q. You've announced three significant new technical signings - all from Force India - on a day when Force India has put out a statement reiterating that it is not 'serious action' against you. Isn't that an awkward situation?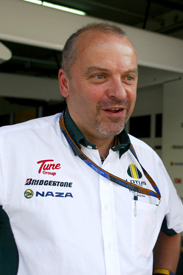 Mike Gascoyne: It's unfortunate. We regard the legal action as old news really. It's a continuation of something that's been around for some time. Our position on it is very clear, that really there is no wrongdoing on our part - we've been indemnified by Aerolab and that situation with Force India is well known. We'd not want to comment. We feel that situation will become eminently clear to everyone as that develops.
But obviously this is very positive news for us, both in the fact that Marianne Hinson and Lewis Butler have started working for us and Mark will be joining them at the end of his notice period. Obviously they're all people who I've worked with before, so it's a very positive thing for the team.
Q. Do you know yet when Mark's notice period will end and he can join Lotus?
MG: No. He has a very long notice period. That's entirely in his hands and Force India's. It's totally up to them and nothing to do with us. He obviously has, I think, a 12-month notice period. He'll come to us when he's able to.
Q. So the possibility exists that he could come to an arrangement with Force India and arrive sooner than 12 months' time?
MG: Yeah, but at the moment that's entirely out of our hands and between him and Force India. It's probably not the best time to be negotiating...
Q. You can understand that people will raise questions over the fact that these signings were announced on the same day that Force India put out a statement about its action against you...
MG: It's something positive for us and we wanted to put that news out. This probably has slightly changed our timing. The fact is it's good news for us and it's very significant for the development of the company.
Q. How significant a moment is this for Lotus? Among the biggest steps you've made so far?
MG: Yeah, I think it is. To have those sort of people come on board... Marianne and Lewis we targeted very early on, with Mark it took a little bit longer to sort matters out. To compete at the top level, you've got to have the best people. For me, the significance is not just that they're the best people and they've proved it in other teams, it's that you know it's a group of individuals that you know are going to work together, get on, know the correct methods, know how to make things tick and can work with each other. It's not just having the right people, it's making sure they've got the environment to do it. That very much fits in with the way that Tony Fernandes likes to operate.
Q. Is it important for you personally to be bringing in this nucleus of people who you have an existing relationship with from your time at other teams?
MG: First and foremost, it's not out of loyalty to them or to me - it's can they get the job done? That's the number one thing. But if you look at all those people and where they've been involved, they've been involved in very successful projects. If you look at the way I've worked at teams, I've gone into teams, brought in three or four key people, mixed that with the elements that are good in the team, and really moved it forward.
This is a slightly different scenario because of course you really didn't have anyone, so you've got to bring them all in. Obviously you target people you know, and they've then worked with other groups of people and that then snowballs.
I think the other great news for Lotus is that they want to come. They have faith in the team, they have faith in the finance of the team, they have faith in me, they have faith in Tony. Norfolk isn't the easiest place in the country to persuade people to come to, and the fact that they're moving their families, it shows the belief that there is in Lotus. I don't think they want to move to Norfolk because they're loyal to me, they've got to believe in what they're doing.
Q. The team announcement said this 'completed' the line-up - so do you now have all the people you want in place to take Lotus forward?
MG: I think 'complete' is sort of the right word and the wrong word, because you're never complete, you're always adding and we're still recruiting actively. One of the nice things is with some of these people, we didn't go out and find them, they came and found us. If the right people come in, we'll slot them into the organisation. But that's very easy to do, because the organisation we've got is very flexible, and it's all people who like each other, so when you move things about for the greater good, no one's going to be whinging, they're just going to want to do a better job.
So complete's not the right word because we'll be strengthening as we build, but it's sort of the completion of phase one - of the initial small team, we've now got the people we want. But in two or three years' time, we're not going to be a small team, we're going to be a mid to large team. Then it will be different.
Q. Do these new technical signings change what you think is achievable in the short term?
MG: Not this year, but certainly starting next year and targeting where we're going to be next year and beyond, this is a significant statement of intent. A little bit like signing Jarno [Trulli] and Heikki [Kovalainen]. You had two experienced drivers and people saying 'well what are they going to be driving at the back of the grid? Why are they doing it?' Well now you start to see why maybe, because they would've know that these sort of people were on board a long time before everyone else did.
That's what they're signing up for, the fact that next year's car is going to be designed by people of this calibre. That's why they're on board. So this is a clear statement of intent of where we want to be.
Q. So when the drivers signed, they were aware that these were people you had in the pipeline or were actively targeting?
MG: Yeah, very much so. Certainly Lewis and Marianne were already signed, and they knew we were targeting Mark Smith as well. Where the team was going to be was an influence in their decision.
Q. What's the strategy for the rest of the year - are you switching resources towards 2011 now?
MG: Very much so. Our whole aerodynamic programme is now on 2011. Obviously with Lewis coming in, he's now looking at next year's car. We're still doing bits, we've got an upgrade package coming through, further upgrades, bits that really should've been on the car but weren't because we were a new team. So there will be updates all year, but it was always the intention to switch early.
You saw in Turkey that we've come from five seconds off the pace to three seconds off the pace. But we're still a second off the cars in front - the Toro Rossos, the Williams, the Saubers. Now we think we'll close that done to not very much by the end of the year, but it still puts you 19th and 20th on the grid. So there's an element of saying 'why bother?', let's switch that resource onto 2011 and start 2011 in the midfield pack. I think that's a very sound argument and that's very much what we're focused on, and again these guys are very much part of that.
Q. Would you expect to maintain your position ahead of the other new teams this year even with switching resources to next year's car?
MG: Yeah, that has to be achieved. That's very clear. We're 10th in the championship and that's where we want to finish.