Lloyd hopes Indy starts turnaround
| | |
| --- | --- |
| By Simon Strang and Matt Beer | Wednesday, June 2nd 2010, 10:46 GMT |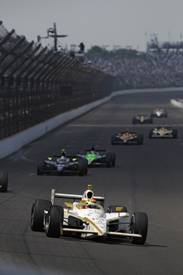 Alex Lloyd believes his first full season in the IndyCar Series will turn around after his spectacular run to fourth in the Indianapolis 500.
Former Indy Lights champion Lloyd completed a last-minute deal to join Dale Coyne Racing for 2010, for what would be his first full campaign after only a handful of one-off races since his title in the feeder series in 2007.
The season began badly, with Lloyd not finishing higher than 19th in the opening five rounds, but at Indy he charged through from 26th to fourth - briefly taking third before the officials decided he had passed Marco Andretti under yellow.
"We're excited to have this bit of momentum," Lloyd told AUTOSPORT. "We needed it, because we've had a tough start to the year. But we showed that the small teams can go out there and mix it with the big guns."
The 25-year-old Briton said he had always been confident Dale Coyne Racing had a competitive car for the race, even though it had been off the pace so far this season and had rarely showed well on ovals since moving across from Champ Car.
"We knew we could be in the top ten," Lloyd insisted. "I think we may have fooled a few people with our speeds during the month, because there were only a couple of days where we were towards the top end of the timesheets.
"We just methodically worked on race set-up. We didn't concern ourselves with speed. That's why our qualifying wasn't quite where we needed, but I think we showed on Bump Day the speed we had in the car."
As the race progressed he was able to make progress through the field, and was racing with the frontrunners by the final stint.
"The only thing that was making me nervous was getting ahead of Scott [Dixon], because then I'd be in clear air and using more fuel," said Lloyd. "So I was just trying to time my passing, get by one by one, and not waste fuel doing it. With a couple of laps to go I got a green flag [from the team] to go and race, and I thought 'okay, now we can make up some positions'.
"When you have a great car like that in the last 50 laps, and we could keep picking people off one by one, and this is the biggest stage in the world, it's a lot of fun and a great feeling.
"We had more downforce on than a lot of people, and I think that was key because it was so hot, and what you need in the heat is downforce. A lot of people trimmed out, and that was a mistake. We kept to our guns, we put high downforce on and had a good solid car. That was just a great call by all my guys."