Button hopes to benefit from RBR rift
| | |
| --- | --- |
| By Pablo Elizalde | Tuesday, June 1st 2010, 09:46 GMT |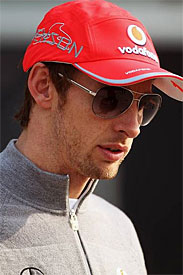 World champion Jenson Button is hoping the rift between Red Bull drivers Sebastian Vettel and Mark Webber will benefit him.
"When you disagree with someone like that and have a coming together, you might take your eye off the ball a bit and you might think the most important person to beat is your team-mate," Button told British newspapers on Tuesday.
"That could really hurt your performance. But they might be fine when they get to Canada. I hope not."
Webber and Vettel blamed each other for their crash during the Turkish Grand Prix last weekend, although the Australian has vowed to clean the air with his younger team-mate.
Button added: "I don't know what's going to happen between [them]. "Whether they will kiss and make up before the next race in Canada.
"But if they don't it normally means that they won't be sharing information as much. Possibly, I don't know how it works there."
The McLaren driver also said he had been impressed by the progress made by his team in Turkey, where both him and Lewis Hamilton chased the Red Bulls before the clash.
"It's quite funny because they have had a very good car all year but they haven't got as many wins as we expected them to have," Button said.
"The great thing for us was, even if we finished third and fourth [in Turkey], I think we'd be reasonably happy in the way we know we've improved. We were quicker than the Red Bulls.
"It's amazing how much of a leap we've made. We've bridged the gap and the rest have stayed back."