Andretti says race pace no surprise
| | |
| --- | --- |
| By Matt Beer and Simon Strang | Monday, May 31st 2010, 12:37 GMT |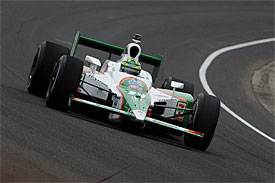 Michael Andretti said his cars' turnaround in form on race day at Indianapolis came as no surprise to him, and reckons his Andretti Autosport team had a very good chance of beating Ganassi's Dario Franchitti to victory yesterday.
Tony Kanaan charged from the back row of the grid to second, and was chasing Franchitti for the lead when he had to pit for fuel with just four laps to go.
Marco Andretti finished third, while Danica Patrick came through to fifth - despite the whole team having been off the pace in practice and qualifying.
But team boss Andretti said he had always believed that in race trim his squad would be more than a match for its rivals.
"The race unfolded exactly the way I was hoping it would," Andretti told AUTOSPORT. "We felt it was going to come down to a handling race, and we had good handling cars. We showed that.
"All the cars were set up to run well in traffic because of where we started, and that worked out well for us - it was really hot and slippery, but we had good handling cars in those conditions.
"In the end, if it wasn't a fuel mileage race, I really believe we were going to beat Dario, either with Tony or Marco, so I was really disappointed with that finish."
Kanaan agreed that victory had been within reach, but still thinks Andretti Autosport's performance will make the team stronger even though the result was not as good as it had hoped.
"I think we had a shot for a win," he said. "This whole team, for the work they did today, deserved a top three.
"The strategies could have worked both ways. We took a gamble. When it comes to a fuel strategy race, I'm not a big fan of it. It could have gone the other way. We could have got the lead and won the race, and we could brag about it for the rest of my life.
"I support my guys all the way. Let's learn from it. I think this team is more together than ever."
Patrick had been jeered by some elements of the crowd after strongly criticising her car during qualifying a week earlier, but paid tribute to her team's efforts to recover ground in the race.
"I am happy, if somebody had said to me at the start of the day that it would be a top five, I would've said 'hell yeah, I'll take that,'" she told AUTOSPORT.
"The guys were really, really great on pitstops and the strategy was exactly what it needed to be to finish in the top five. What can I say? I just worked the pedals and the steering the rest of the time.
"One of the big strengths of this team is its ability to race well, to work the strategy, to work the pitstops and to get us up there. The car was much better in the race. It was a little bit of a struggle at the start, but it kept getting better and that's what you need to do to move up."