Power: Pit trouble cost me win shot
| | |
| --- | --- |
| By Matt Beer and Simon Strang | Monday, May 31st 2010, 11:05 GMT |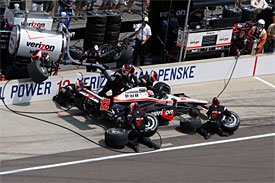 Will Power is certain that he could have challenged Dario Franchitti's dominance of the Indianapolis 500 had he not run into trouble in the pits.
The IndyCar championship leader pulled away with a fuel probe still attached early on, forcing him to get back in both to have the component removed, and then to take a penalty.
He also overshot his pit at a later stop and could only recover to eighth.
But Power said when he was racing with Franchitti in the opening stages, he felt he had the pace to beat the Ganassi driver, who ended up taking a comfortable victory.
"On track the car was good. We were able to get past people," Power told AUTOSPORT.
"It was fast enough to hang with Dario at the front. I was lifting behind him. Man, we were in good shape, we were in real good shape. But he was setting a bloody quick pace. That was a crazy fast pace."
He believes Penske will become tougher to beat in the remainder of the season as it addresses the issues that proved costly at Indy.
"The good thing is that everyone works harder when you have that sort of day," said Power. "We all work harder on that thing [that went wrong] afterwards, so it will make us better."
Power was the highest-placed Penske driver at the end, with Ryan Briscoe crashing out and Helio Castroneves also having pit issues and finishing ninth. The latter was not as certain as Power that Franchitti was beatable, but felt he would have been in contention had he not stalled at a pitstop.
"Dario was faster, I could see that he was comfortable," Castroneves told AUTOSPORT. "I was being conservative, just trying to wait for an opportunity."