Hamilton wins hectic Turkish Grand Prix
| | |
| --- | --- |
| By Matt Beer | Sunday, May 30th 2010, 13:34 GMT |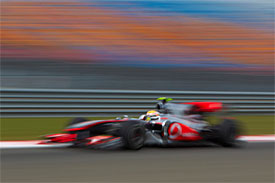 Lewis Hamilton claimed his first victory of 2010 in Turkey as the Red Bulls collided while battling for the lead and handed McLaren a clear one-two.
Mark Webber, who had led until Sebastian Vettel's lap 40 passing move ended in disaster for Red Bull Racing, recovered to take third, while Jenson Button spectacularly attacked Hamilton for the lead but ultimately had to follow his team-mate home.
Red Bull had briefly moved into one-two formation at the start as both McLarens lost a place off the line - Hamilton falling to third behind Vettel and Button being eased out of fourth by a determined Michael Schumacher (Mercedes).
Neither stayed there long, with Hamilton getting back alongside Vettel on acceleration through Turn 2 and retaking second into the downhill complex at Turns 3 and 4. Button then drafted Schumacher down the back straight and went around the outside of the Mercedes into Turn 12.
The top four left the rest of the field trailing, while tied together in a tense quartet. Hamilton was soon on Webber's rear wing, and kept pondering moves into Turn 12 without ever quite getting alongside.
It looked like the pitstops would be McLaren's only chance, but when both Webber and Hamilton came in on lap 15, a very slightly slower wheel change at McLaren not only saw Webber exit first, but Vettel - who had pitted a lap earlier - get between them again. Hamilton immediately tried to re-pass him on the outside into Turn 12, only to run wide. Button ran two laps further to no avail, rejoining fourth again.
After that the Red Bulls and McLarens settled into close formation again, little more than two seconds covering all four.
The deadlock held until lap 40, when after edging ever closer to Webber, Vettel drafted alongside out of the Turn 11 kink and drew level down the inside approaching the final complex. The pair suddenly made high-speed contact, sending Vettel spinning wildly into retirement with rear end damage, and Webber slewing over the run-off area. The gap back to Schumacher was such that Webber was able to make a precautionary pitstop for a new front wing and tyres, and still rejoin in third.
The McLaren duo then began some close racing of their own. As light drizzle started, Button got a run on Hamilton towards Turn 12 with nine laps to go. With Hamilton defending the inside, Button went right around the outside - giving him the racing line and the lead at Turn 13.
But Button's lead lasted only the length of the pits straight, with Hamilton diving back to the inside into the first corner and through a narrowing gap to take the lead. With McLaren frantically urging its drivers to conserve fuel thereafter as it kept an eye on some consumption issues, that was the end of the battle.
Schumacher held on to fourth, with his team-mate Nico Rosberg, Renault's Robert Kubica, Ferrari's Felipe Massa and Fernando Alonso chasing the seven-time champion home.
A slightly early tyre stop and quick laps thereafter allowed Alonso to at least gain some ground following his disastrous qualifying. He then spent most of the race trying to get around Vitaly Petrov's Renault, finally succeeding around the outside at Turn 3 in the closing laps - with a brush between giving Petrov a right front puncture. He rejoined to grab fastest lap at the end.
A late pass by Adrian Sutil (Force India) on Kamui Kobayashi (Sauber) resolved a race-long battle for what eventually became ninth, and left Kobayashi to fend off his team-mate Pedro de la Rosa.
Toro Rosso's Sebastien Buemi and Williams's Nico Hulkenberg were both delayed by first lap damage, while a poor start dropped Rubens Barrichello down among the new teams in the second Williams.
Lotus was comfortably clear of the other new squads until both Jarno Trulli and Heikki Kovalainen suffered hydraulic failures within moments of each other, allowing Virgin's Timo Glock to take unofficial class honours.
PROVISIONAL RACE RESULTS

The Turkish Grand Prix
Istanbul, Turkey;
58 laps; 309.396km;
Weather: Dry.

Classified:

Pos  Driver        Team                       Time
 1.  Hamilton      McLaren-Mercedes           1h28:47.620
 2.  Button        McLaren-Mercedes           +     2.645
 3.  Webber        Red Bull-Renault           +    24.285
 4.  Schumacher    Mercedes                   +    31.110
 5.  Rosberg       Mercedes                   +    32.266
 6.  Kubica        Renault                    +    32.824
 7.  Massa         Ferrari                    +    36.635
 8.  Alonso        Ferrari                    +    46.544
 9.  Sutil         Force India-Mercedes       +    49.029
10.  Kobayashi     Sauber-Ferrari             +  1:05.650
11.  De la Rosa    Sauber-Ferrari             +  1:05.944
12.  Alguersuari   Toro Rosso-Ferrari         +  1:07.800
13.  Liuzzi        Force India-Mercedes       +     1 lap
14.  Barrichello   Williams-Cosworth          +     1 lap
15.  Petrov        Renault                    +     1 lap
16.  Buemi         Toro Rosso-Ferrari         +     1 lap
17.  Hulkenberg    Williams-Cosworth          +     1 lap
18.  Glock         Virgin-Cosworth            +    2 laps
19.  Di Grassi     Virgin-Cosworth            +    3 laps

Fastest lap: Petrov, 1:29.165

Not classified/retirements:

Driver        Team                         On lap
Chandhok      HRT-Cosworth                 53
Senna         HRT-Cosworth                 47
Vettel        Red Bull-Renault             40
Kovalainen    Lotus-Cosworth               34
Trulli        Lotus-Cosworth               33


World Championship standings, round 7:                

Drivers:                    Constructors:             
 1.  Webber        93        1.  McLaren-Mercedes          172
 2.  Button        88        2.  Red Bull-Renault          171
 3.  Hamilton      84        3.  Ferrari                   146
 4.  Alonso        79        4.  Mercedes                  100
 5.  Vettel        78        5.  Renault                    73
 6.  Kubica        67        6.  Force India-Mercedes       32
 7.  Massa         67        7.  Williams-Cosworth           8
 8.  Rosberg       66        8.  Toro Rosso-Ferrari          4
 9.  Schumacher    34        9.  Sauber-Ferrari              1
10.  Sutil         22       
11.  Liuzzi        10       
12.  Barrichello    7       
13.  Petrov         6       
14.  Alguersuari    3       
15.  Hulkenberg     1       
16.  Buemi          1       
17.  Kobayashi      1       
       
All timing unofficial