McLaren pair pleased to close on RBR
| | |
| --- | --- |
| By Jonathan Noble and Matt Beer | Saturday, May 29th 2010, 12:59 GMT |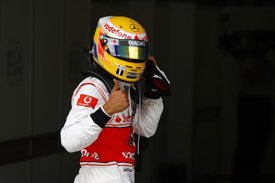 Lewis Hamilton and Jenson Button were content with how close McLaren had got to Red Bull Racing's pace in Turkish Grand Prix qualifying, even though they were unable to stop Red Bull's run of poles.
The two most recent world champions will start second and fourth, with Red Bull's Mark Webber on pole and Sebastian Vettel between the McLarens in third.
"It feels great, these guys have been untouchable all year in terms of pure pace so it is a real boost for me and my team," said Hamilton. "Knowing we have a good baseline pace, and our race pace is even better, it puts us in a strong position tomorrow. We will continue to push and have some new bits coming for the future."
He does not think Red Bull's advantage will be as great in race conditions.
"These guys are easily flat out through Turn 8 in qualifying," said Hamilton, "they pull out four tenths from us in that corner, but with full fuel we will be a little bit closer. But it is a point where you can degrade tyres quickly if you don't treat them well, but I hope we have good balance."
Hamilton said he was heading into tomorrow's race not looking to defend from Vettel, but to attack Webber for victory.
"We are in the best spot I have ever been to start the race," he said. "If I can get close enough to Mark then without a doubt I will be taking the opportunity. We have to look after the tyres, and then see what happens."
Button felt he could have been closer to Hamilton had he not had to back off when Michael Schumacher spun off at Turn 8.
"The last run was a bit frustrating. Being the last car on the circuit is sometimes a good thing because you get the cleanest track, but there's obviously more chance of someone going off and Michael went off in front of me on my last lap and when there's a yellow [flag] you've got to back out of it obviously," Button told television crews.
"I just came straight in because it wasn't going to be quicker because of that. Wasn't perfect, but it's not bad to be P4 - on the dirty side of the grid - but we'll see what we can do from there.
"I think we are a lot closer to Red Bull than I expected this weekend, so it's positive. My biggest problem has been Turn 8 – I think we've run the car too low. I wanted to keep it low for the rest of the circuit so I'm hitting the ground so much through there and that's where my time loss is. It's a risk we took, but even so I'm fourth on the grid so it's not too bad."