Q & A: P-G Andersson on Stobart deal
| | |
| --- | --- |
| By David Evans | Saturday, May 29th 2010, 09:18 GMT |
Double Junior world champion and former Suzuki factory World Rally Championship driver P-G Andersson is to get a one-off drive with Stobart Ford in July's Rally Bulgaria, the team announced yesterday.
AUTOSPORT caught up with Andersson to get his thoughts about this opportunity to rejoin the WRC frontrunners.
Q. When did you find out about the deal?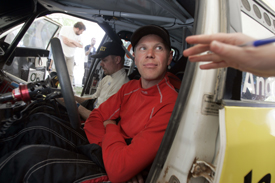 P-G Andersson: It was when we did the test in Cockermouth earlier this month.
Q. Did you go there expecting to talk about contesting Rally Bulgaria?
PGA: We had a bit of a deal. If I agreed with one thing then we got this rally. We found a solution.
Q. Was it a difficult thing to agree to?
PGA: Not really!
Q. Will you test before?
PGA: We're looking at it, but it doesn't look like it. At least I think I will go over there and drive on the airfield to get some sort of feeling for the car.
Q. When did you last compete on asphalt?
PGA: It must have been Corsica 2008. Tarmac's not my favourite surface, it's for sure, but at the same time don't forget I haven't been in a proper car on tarmac before and one thing is for sure the Focus is going to be a very different car to the [Suzuki] SX4.
I hope we can do okay and if we get a good feeling I think we can put in some decent times.
Q. What's the aim for the event?
PGA: I think top six is what I hope, for sure. To be honest, I haven't thought so much. I think the smartest thing is to go out, learn the car and build up the speed gradually - at least make sure to bring the car to the finish.
Q. Is it a one-off drive?
PGA: At the moment, it is. I have the programme with the Skoda to drive in the other rallies, but if the opportunity comes then I'm sure we can get something sorted out.
Q. Is your Skoda deal confirmed for the rest of the S-WRC?
PGA: It's pretty much sorted, yes.