Penske says surprise winner possible
| | |
| --- | --- |
| By Simon Strang and Matt Beer | Friday, May 28th 2010, 16:57 GMT |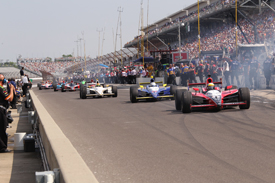 Roger Penske reckons teams outside the dominant Penske/Ganassi group have a shot at winning this year's Indianapolis 500, though he acknowledged that Chip Ganassi's squad will be his drivers' main threat on Sunday.
Penske and Ganassi's five cars are all on the front two rows of the grid for the race, with Fazzt's Alex Tagliani the only interloper in fifth place.
Even though every oval race since June 2008 has been won by a Penske or Ganassi driver, Penske believes Tagliani and Rahal Letterman's Graham Rahal are among those who could spring a surprise - and reckons Andretti Autosport's Danica Patrick and Tony Kanaan will also be quick in the race despite their disastrous qualifying weekend.
"As far as anybody else in the field, I think we've got Tagliani, you've got young Rahal, certainly Kanaan coming from the back, Danica, there are a number of people out there that can run well," said Penske.
"I think we're focusing on each other [Penske and Ganassi], but I can tell you something, come race day we might see a much different picture.
"It's got to be about who doesn't make the most mistakes. There's another 28 cars out there that can win this race, many drivers out there probably in the first three or four rows."
He believes there is very little to choose between the packages and driver line-ups Ganassi and Penske now have at the front of the pack.
"We look at their cars every day, they look at ours," said Penske. "I think it's a level playing field, very transparent the way the rules are today.
"We've been racing these cars now for seven years. I think the reliability has been good on the cars and the engines and I think it comes down to team strategy.
"Obviously, we've got some great drivers. Scott Dixon and Franchitti; they could ride in our team any time. I feel that way about the two drivers he has. We're just fortunate to have these kind of guys associated with our teams."