Haryanto fastest in GP3 practice
| | |
| --- | --- |
| By Mark Glendenning | Friday, May 28th 2010, 14:51 GMT |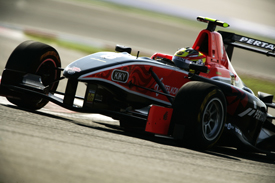 Manor Racing's Rio Haryanto was the surprise pace-setter in today's GP3 Series practice session at Istanbul.
Haryanto waited until the final seconds to produce his 1m48.022s effort, putting him just 0.047 seconds clear of previous leader Esteban Gutierrez of ART, and then spun and stalled at the first corner immediately after setting his time.
Gutierrez hung on for second ahead of Renger van der Zande (Mucke Motorsport), Nigel Melker (Mucke Motorsport) and Michael Christensen (MW Arden).
Prior to Gutierrez establishing himself at the top, six other drivers had taken turns to lead the times during a frantic opening 10 minutes, including Melker, Daniel Morad, Doru Sechelariu and Pablo Sanchez-Lopez.
Stefano Coletti, who is making his series debut this weekend with Tech 1, hovered on the fringes of the top 10 early in the session before eventually ending up 16th, with fellow newcomers Jim Pla (Tech 1) 19th and Mikhail Aleshin (Carlin) 24th.
Pos  Driver                Team       Time       Gap
 1.  Rio Haryanto          Manor      1m48.022s
 2.  Esteban Gutierrez     ART        1m48.069s  + 0.047s
 3.  Renger van der Zande  RSC Mucke  1m48.238s  + 0.216s
 4.  Nigel Melker          RSC Mucke  1m48.377s  + 0.355s
 5.  Oliver Oakes          Atech CRS  1m48.530s  + 0.508s
 6.  Michael Christensen   MW Arden   1m48.623s  + 0.601s
 7.  James Jakes           Manor      1m48.745s  + 0.723s
 8.  Dean Smith            Carlin     1m48.760s  + 0.738s
 9.  Pablo Sanchez Lopez   Addax      1m48.810s  + 0.788s
10.  Nico Muller           Jenzer     1m48.824s  + 0.802s
11.  Josef Newgarden       Carlin     1m48.840s  + 0.818s
12.  Doru Sechelariu       Tech 1     1m48.868s  + 0.846s
13.  Tobias Hegewald       RSC Mucke  1m48.941s  + 0.919s
14.  Adrian Quaife-Hobbs   Manor      1m48.942s  + 0.920s
15.  Robert Wickens        Status     1m48.979s  + 0.957s
16.  Stefano Coletti       Tech 1     1m48.984s  + 0.962s
17.  Daniel Morad          Status     1m49.045s  + 1.023s
18.  Simon Trummer         Jenzer     1m49.127s  + 1.105s
19.  Jim Pla               Tech 1     1m49.142s  + 1.120s
20.  Mirko Bortolotti      Addax      1m49.246s  + 1.224s
21.  Leonardo Cordeiro     MW Arden   1m49.263s  + 1.241s
22.  Alexander Rossi       ART        1m49.289s  + 1.267s
23.  Miki Monras           MW Arden   1m49.467s  + 1.445s
24.  Mikhail Aleshin       Carlin     1m49.509s  + 1.487s
25.  Vittorio Ghirelli     Atech CRS  1m49.541s  + 1.519s
26.  Pedro Nunes           ART        1m49.616s  + 1.594s
27.  Pal Varhaug           Jenzer     1m49.796s  + 1.774s
28.  Felipe Guimaraes      Addax      1m50.620s  + 2.598s
29.  Ivan Lukashevich      Status     1m53.221s  + 5.199s