Schumacher: Ferrari still a part of me
| | |
| --- | --- |
| By Jonathan Noble | Friday, May 28th 2010, 08:56 GMT |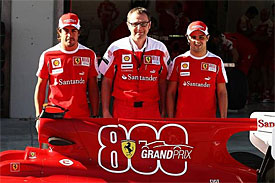 Michael Schumacher has admitted that a part of his heart will always be tied to Ferrari, as the Italian team celebrates its 800th F1 grand prix in Turkey this weekend.
With the Maranello outfit celebrating its historic achievements, and marking it with special logos on the engine covers of the F10, Schumacher has expressed his continued emotional ties to Ferrari.
Schumacher, who took five of his world titles for Ferrari during a driving spell from 1996 to 2006, said: "When you are part of a community for fourteen years it inevitably has an effect on you.
"I will always have a part of Ferrari inside me; a part of my heart will always be red. The Scuderia has a really special way of going about its business and it is quite right to speak of itself as a family - a family that I have long felt part of.
"The time I spent with Ferrari was wonderful, I made friends and had experiences that I would not want to be without.
"Concepts that I had never contemplated before my time at Ferrari came to life for me there: legend, culture and history. All of that meant nothing to me before I joined the team; I had never concerned myself with it or even known about it.
"Once I experienced at first hand the significance that Ferrari has for Italy and the tifosi, only then did I grasp that these concepts were well justified. That they originate in a passion for engines and cars, both among those who build them, as well as among those who admire them.
"I am certainly not a man prone to lyrical expressions, but I now fully understand this passion - my greatest passion is racing, and in that we, myself and Ferrari, are very much the same."
Ferrari will host a special celebration party in Istanbul on Saturday night and president Luca di Montezemolo has written to all of the team's former drivers to express his gratitude for their role in the outfit's history.
"Each of you has written a chapter in this fantastic story and, on behalf of Ferrari and its supporters, I would like to thank you," he said. "I am very proud to be at the head of a company like Ferrari and I would like to share with all of you our joy in reaching this extraordinary achievement.
"It is incredible looking back at what we have accomplished together, knowing that we are part of an unrivalled history which is still being written."