Block: Portugal biggest challenge yet
| | |
| --- | --- |
| By David Evans | Thursday, May 27th 2010, 20:48 GMT |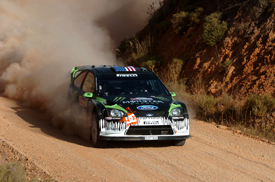 Monster Ford driver Ken Block says this week's Rally of Portugal stages will be the toughest he has competed on in his life.
Having retired and returned under superally in both of his two previous World Rally Championship outings this season, the American says his focus this weekend is firmly on getting through all three days without a problem.
Block's preparation have included time in the car with Ford world rally winners Mikko Hirvonen and Markko Martin. He sat in the car with Finn during Hirvonen's test on Monday before Martin joined him in the Monster Focus to offer some tips on getting the best out of the car.
"I did two runs with Mikko, so it was good to see what he's doing with the car," said Block. "It's very easy to drive the car, but very hard to get the top levels of speed. At the end of the test Markko Martin sat with me for three runs and gave me some good direction. It was big, big help and I feel more confidence from that test.
"But, at the same time, the stages here are very, very different. There's not one stage that's the same or one stage that I can say, I know this or I remember that; there's not one stage that's easy or fun. They are all so different, you know: big jumps or bigger trees at the side of the road or something like that. These are the toughest stages I've ever seen."
Block added that he was pleased with the pace he has shown in the WRC to date, but acknowledged that there was more to come.
"For me I didn't expect the pace I had in Turkey. I was happy with that," he said. "My problem was the consistency and minimising the mistakes. I'm here to smooth those issues and have a good event.
"But every time I get on the stages and see I'm pretty far off the pace I'm amazed what these other guys can do with the cars. But I hope, with some more testing, I can be there.
"It's one thing to watch these events on television, but something completely different to be there and do it. That's when you say: 'Holy s***! I've got a long way to go!"