Q & A with Jenson Button
| | |
| --- | --- |
| By Jonathan Noble | Thursday, May 27th 2010, 16:23 GMT |
Despite his first retirement of the season in Monaco, Jenson Button arrives in Turkey upbeat about his prospects for the weekend.
The world champion, however, is aware that Red Bull Racing remains the team to beat.
AUTOSPORT heard from Button ahead of the seventh round of the championship in Istanbul.
Q. How do you react after what happened in Monaco. Do you scream and shout, or do you just hope everyone learns from it?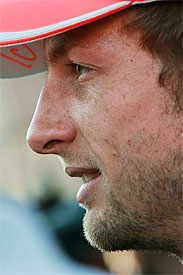 Jenson Button: I know how it happened. We left a bung in the sidepod. It is a mistake and those mistakes, you say they shouldn't happen, but they do. It is about minimising them, so when it happens once it is about making sure they don't happen again. The guy is devastated, and has been very apologetic. We all make mistakes and I am sure he won't make the same mistake again. We want everyone in this team to be positive, and confident when they go into the next race. Everyone within this team coming here is looking forward to this weekend. There is a great atmosphere within the team at the moment.
I wondered in here this morning and I thought, 'what is everyone doing? Are they all on happy pills or something?' There is a really good atmosphere in the place at the moment and we are looking forward to seeing how the car goes here. If you look at the last few races there is one team that has stood out, and that has been the Red Bulls. So, it is about chasing them down.
I think coming here, we can challenge other teams, but the Red Bull is I think a standalone team - and it has been over the last few races. We have to make sure that our improvements move us closer to them, and that is all we can hope for at the moment. If we do come away with a great result, that is amazing.
Q. What is the explanation for the happiness? Why did it catch you by surprise?
JB: I think everyone is just excited to get it underway again. Lewis got a fifth place in Monaco, which is great, but it is also not what he was looking for or what the team was looking for – one car to finish and for it to finish fifth. I think it is moving on from Monaco, and coming here, and being excited about being back out on track and showing what we can do.
Q. Would you say that Monte Carlo were the worst track characteristics for your car?
JB: I don't know. I think it is still an aerodynamic track Monaco, otherwise you wouldn't run with all these wings on the car. But it is a low speed aerodynamic circuit and maybe it is not our strong point, but it is also not a massively weak area.
But I think the Red Bulls have a very strong car, especially on traction – much better than any other car on traction. And their car seems to work at low speed with the downforce. They seem to have a very different car than they had last year. Last year all their downforce was at high speed. This year it seems the opposite. They seem to be very good at carrying speed through the mid and low-speed corners. But, to be fair, they are pretty good at high speed as well.
Q. Here is an aerodynamic track that should suit the Red Bulls. But will the longer straight play to your F-duct?
JB: It is an aero track but I think our car will work well at this aero level. I am much happier coming here than I was going to Monaco or even Barcelona. I think our car, the characteristics and the aero package that we have here, will work well for this circuit.
It has a long straight, which is good, and the thing that you call the F-duct, we call it something else, should work well around here. I know that Red Bull has a system that it will be using this weekend, but we also know it takes a bit of time to tune – and hopefully they will be playing around with that all weekend while we concentrate on set-up.
Q. Many other teams are also using the F-duct. Are you worried you may lose the advantage you had from it?
JB: When you have an innovative design, people will always follow. It gives them ideas, so it is inevitable and it will happen. It is about making the most of it while you have the advantage. I still think we have an advantage with the system that we have here. It is a known system and we can concentrate on set-up work, while other teams will be working with it to try and make it work effectively.
Q. But if Red Bull Racing has designed something good from the off, will that not make them even more dominant?
JB: Yes it would be amazing, but it's not going to happen. You cannot just wheel it out on the first day and it will be perfect from run one. It will take them time.
Q. It could be a distraction then, you reckon?
JB: Yeah. It is not just about covering a hole.
Q. Fernando Alonso has said that there has not been enough time between Barcelona and here to catch up with development on Red Bull Racing. Is that similar for you?
JB: We don't know. We know we've moved forward with the aerodynamic package that we have brought here, and a few other bits on the car that I am very happy we have here. But, they had a one-second advantage in qualifying and you are not going to find that in a couple of weeks.
We have just got to hope that this type of circuit, because it is a different circuit to Barcelona – it is lower aero package downforce level – we have to hope that our car works better at this level than the Red Bull. I also think that their race pace is not as good as their qualifying. We were a lot closer in the race in Barcelona – well Lewis was because I was behind someone for most of that!
If we are still a margin behind them in qualifying, then we could possibly race them. But nobody knows until we get out there.
Q. If Red Bull Racing had had the car advantage it has got, plus won the opening races and opened up a 100-point lead in the championship it would effectively be game over wouldn't it? But is the fact that points gap is so close encouraging for you?
JB: I think every team has made mistakes this year. One team does stand out as being quick in qualifying and the race, and that is Red Bull Racing. They have qualified on pole position at every race, but they have come away with only three victories. They have made mistakes, but so have we.
They showed in the last two races that when they don't make mistakes, and don't have reliability issues, they are pretty tough to beat. At Barcelona and Monaco, nobody else had a look-in really – and with safety cars you can't overtake anyway. But as long as you get the pit-stop strategy right, which is easy when you are leading, nobody is able to touch them. And that is the way it has looked the last two races. I hope it is not the same here, we have to wait and see.
Q. You were in the Red Bull Racing situation last year for the first few races, but then by Silverstone it turned around?
JB: We never had an advantage like Red Bull has now. The first race of the season, we definitely had an advantage – but after that the Red Bulls were very quick. They were matching our times in Barcelona, they were matching our times in Bahrain – the Toyotas out qualified us in Bahrain. There was always a car that was as quick as us in the race, but the others were not as consistent or made mistakes. So there is always a chance to fight with a car that you are the same pace with – because they make mistakes and hopefully you can make the difference. But they are quicker than you, like the Red Bull is at the moment, then it is very difficult. But it can turnaround very quickly and it turned around fast. I won the race by I don't know how many seconds and then we went to Silverstone, which was cool and different conditions, and the pace just wasn't there. So it can change around very quickly, but I don't think it will be so extreme for the Red Bulls when we head to a cooler climate.
Q. You mentioned the happy pills at the start. Does that lift your spirits when you turn up like that?
JB: I have been pretty positive anyway. Monaco was a tough weekend, and I am happy it happened on lap two instead of lap 62. But I have been doing some training this week, have been doing some PR. I am in a really good place right now and really excited about getting back out there. When you have a race like that, where you don't even compete, it is frustrating but you also cannot wait to get back out there and jump in a car. We love racing, we love driving racing cars.
Q. What is the psychological difference of being out in front rather than the chasing pack?
JB: There is quite a lot of pressure on you out in front. There is a lot of pressure but you also have to say that they have to catch you – and I said that last year. Being in a chasing bunch is quite fun as well. You do take more risks but that is exciting.