Alonso hoping for no more mistakes
| | |
| --- | --- |
| By Jonathan Noble and Pablo Elizalde | Thursday, May 27th 2010, 14:04 GMT |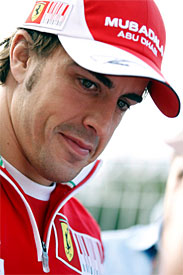 Fernando Alonso says it is important that Ferrari and himself stop making mistakes if they are to fight for the title until the end of the season.
A mistake during qualifying in Malaysia, a jumped start in China, and a crash in practice in Monaco have meant Alonso has not scored as many points as he could have.
But the Ferrari driver says his gap to the championship leader - three points after six races - proves everybody has been prone to errors.
"We would like to not make any more mistakes in the rest of the championship," said Alonso in Turkey on Thursday.
"But even with all the problems we've had in six races, in four of them we were last on lap 1, so with all these problems we are three points behind the leader of the championship, so maybe the others are making more mistakes than us.
"So as far as we are leading the championship on the last lap of the last race that's enough. So hopefully we won't make any more mistakes, but if we make them we hope the others continue not scoring points."
He conceded, however, that Ferrari had not maximised the car's potential in the early part of the season.
"In some of them we have been lucky to score points," he said. "But, as I said, the best car has been the Red Bull and they are just three points ahead. For sure we haven't done the job but at the moment we are lucky that the others didn't do it either.
"From now on hopefully we'll be more concentrated and we can deliver the maximum from our car. We need to maximise the potential from now on."
And the Spaniard is adamant that his team will eventually catch up with championship leader Red Bull Racing, even though he admits he is not expecting that to happen this weekend.
"I don't think it's impossible [to catch Red Bull]. We know that we need to work hard, put some more downforce in the car and I think we have a good programme to develop the car.
"We saw Brawn dominated the first seven grands prix last year and then struggled a little bit at the end of the year, when Red Bull was better than them.
"Also McLaren and Ferrari were at the same level as Brawn. So I expect Ferrari, McLaren, Mercedes to come back and be very close to Red Bull. When? Hopefully soon, but maybe not immediately here in Turkey."