Pirelli on the verge of Formula 1 deal
| | |
| --- | --- |
| By Jonathan Noble | Thursday, May 27th 2010, 09:17 GMT |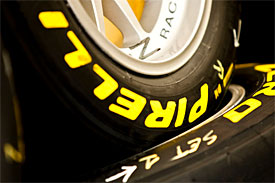 Pirelli is on the verge of being confirmed as Formula 1's official tyre supplier, AUTOSPORT has learned, as teams close in on signing a deal with the Italian company.
Following weeks of discussions between teams about their preferred route for 2011, the last days have been spent evaluating a straight head-to-head choice between Michelin and Pirelli.
And after a number of conference calls involving members of the Formula One Teams' Association (FOTA), it is understood that Pirelli has emerged as the preferred option for next year.
Although a final contract has not yet been agreed - with commercial terms and confirmation from the FIA and Formula One Management still needed to be settled - it is understood the situation is far enough agreed for an announcement to be made as early as this weekend.
Pirelli chairman Marco Tronchetti Provera told Gazzetta dello Sport: "We'll see, there is this hypothesis. By Friday we should know something."
The confirmation of Pirelli will at least ensure teams can begin designing their 2011 cars with some knowledge of what tyres they will be running, as well as give Pirelli the green light to start development of F1 rubber.
As part of the deal with the teams, Pirelli will supply 13-inch tyres for at least the next two years, and it is likely it will receive guarantees that there will be no tyre war until 2013 at the earliest.
Pirelli's racing manager Mario Isola told AUTOSPORT earlier this month that he was confident about his company's bid - even though it has not been involved in F1 since 1991.
"I think that Pirelli has a very big tradition in motorsport," he said. "We have been involved in motorsport for more than 100 years. In all our story, we showed that we have the technical ability to build motorsport tyres – also in the past with F1, with WRC recently as the sole supplier contract.
"In that case, it was not easy because there were some teams that had never used our tyres, they started in an unknown situation so we showed that we were able to build and develop a tyre that was consistent and reliable. I think the teams recognise that we have the ability to do it."