Donington secures new leaseholder
| | |
| --- | --- |
| By Matt Beer | Wednesday, May 26th 2010, 14:48 GMT |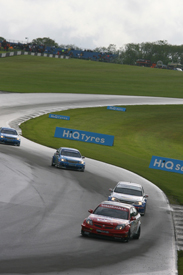 Donington Park's future has been secured after the Adroit Group was appointed as the new leaseholder at the Leicestershire track.
The failure of previous leaseholder Donington Ventures Limited's bid to bring the British Grand Prix to the venue left it facing uncertain times, with the track requiring significant expenditure to bring it back into use as its conversation to a Formula 1-standard venue had been part-completed before the project collapsed.
The circuit-owning Wheatcroft family had been hunting for a new leaseholder willing to safeguard Donington's future as an active racetrack and has now chosen Worcester-based construction and property company Adroit.
"We are particularly pleased that after a long interview process, we feel that we have found the right people to move Donington forward into a new and exciting future," said Kevin Wheatcroft.
Adroit managing director David Broome said his firm was well aware of the task ahead, but committed to reviving Donington.
"It is a big task and nobody is under any illusions about that," he said. "We intend to bring the site back up to a world class standard.
"The entire site needs attention whilst much of it will require a total overhaul from the track itself to the medical centre, hospitality suites, phone, radio and PA systems, IT systems, CCTV and general ground work.
"There is no magic wand, but through a calm, cautious, credible and sensible approach we know that we have the experience, expertise and absolute commitment to bring the glory years back to Donington.
"I believe the very fact that we fully understand the task at hand and were able to convey our realism and pragmatism were factors in us winning out over the other parties."
Work has already begun to bring Donington back into use, with UK motorsport's governing body the MSA set to inspect the work in early August. The reopened track's first event is set to be a Masters Series meeting on the first weekend of September, with the British Touring Car Championship still scheduled to visit Donington on 18-19 September.