Fernandes: New teams earning respect
| | |
| --- | --- |
| By Jonathan Noble | Tuesday, May 25th 2010, 09:41 GMT |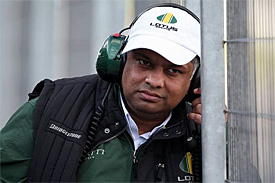 Lotus Racing boss Tony Fernandes believes that Formula 1's new teams have finally begun to earn the respect of their competitors and fans - despite a troubled baptism into grand prix racing.
All of F1's three new outfits - Lotus, Virgin Racing and HRT – have endured highs and lows since they signed up to enter the sport, but with the three now regularly getting cars to the finish and beginning to close the pace gap to the established teams, Fernandes reckons that the corner has been turned.
"I've come from a very old fashioned school that everyone has a beginning," Fernandes told AUTOSPORT. "Ferrari had a beginning, McLaren had a beginning and they were not world champions automatically. I think from beginnings come good things.
"Air Asia started with two planes. We were the laughing stock of the Asian aviation sector and we are not any more, so I didn't take criticisms [of the new teams] too seriously at the time. People are going to have opinions – and that is good. It has brought interesting new ideas into it, and I think one good thing about the new teams is that they have new ideas."
Fernandes claims that the example of Lotus shows that a new team can get acceptance very quickly if it goes about working in the right way.
"I still think we are a way from being a McLaren or a Ferrari, but that takes time as well," Fernandes said. "With all the early negativity, people were saying: Will they survive? Will they do this?
"If you are a sponsor, you think about going with a guy who is more established, but I am convinced things will come through to us – and I am sure we will do a very good job on a marketing and branding aspect. Just look at our pits – it looks like we have been there for a long time.
"In the same way, we have to earn the respect of the other teams. We have to earn the respect of sponsors and fans and unfortunately time is the only way to do that. But I am beginning to see more people coming on board with us and more interest, and hopefully we will be able to sustain this for a longer term."
Fernandes believes, however, that for new teams like Lotus to flourish, fundamental changes are still required in F1 to make the sport sustainable for the longer term future.
"I do think F1 is incredibly expensive and at some stage that has to be addressed. I also try to encourage people that F1 should become closer to the car industry. It is important that we are a good provider of knowledge to the road car industry.
"That is why I am a supporter of 18 inch rims because it makes the tyres more relevant to the car industry. I am a supporter of KERS, although I think we have to do it in the right form and not spend 10 million bucks on something that is not going to be commercially used.
"In some ways, F1 is a sport that is so similar to the aviation industry. It's something that should really be quite simple, but every little process is made phenomenally complicated. I will continue to put my views across that we should make it simple, and make the sport more fun, and I have to say FOTA is very good, the camaraderie inside FOTA for a dog-eat-dog sport is very good."
And although some of the established teams have criticised the new outfits, he thinks ultimately the cohesion and work of the Formula One Teams' Association (FOTA) has been a key in helping the rookies survive.
"Without a doubt FOTA has been good," said Fernandes. "Tomorrow, McLaren, Ferrari, Mercedes and Red Bull Racing could go and do a tyre deal and probably get paid lots of money to do it because, let's be real, Michelin would be more interested in sponsoring them than Hispania, Virgin or Lotus.
"But the spirit among FOTA members has been excellent and I think deep down the tyre manufacturers would have loved to split us – they were trying their damndest. I am a newbie inside FOTA, and these things are easy to set up but need a lot of effort to keep going. There is a good drive there though."