Tracy caught out by temperature
| | |
| --- | --- |
| By Matt Beer | Monday, May 24th 2010, 10:13 GMT |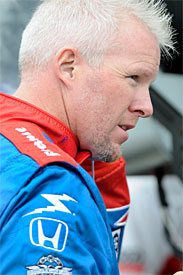 A 'heartbroken' Paul Tracy said handling changes caused by Bump Day's unexpectedly hot weather led to his failure to qualify for the Indianapolis 500.
The former Champ Car champion had been competitive in practice, but failed to make the top 24 on Pole Day, thanks in part to a gearbox issue on his first run. His Bump Day qualifying attempt was off the pace and in the final minutes he found himself on the bubble in 33rd.
Worried he would be knocked out and run out of time to respond, Tracy and KV gambled on withdrawing their speed and going for another qualifying run with 10 minutes to go, but lapped too slowly and abandoned it, leaving Tracy as a non-qualifier even though his previous run would have kept him in the field as it turned out.
"It is heartbreaking," he said. "The frustrating part is that it was quick in the cold temperatures. I was second fastest on Thursday with a 226mph and ran 225 this morning.
"But when it heated up, we just lost the handling and could never get the speed back. It wasn't for a lack of trying. The team tried everything. We just could not get the balance on my car when we really needed it."
He refused to criticise the team for the decision to withdraw his qualifying time and try again.
"Turns out we would still have been in. But it's a team decision," said Tracy. "And we worked as a team all week, and we made decisions as a team. And you win and lose as a team.
"So I've had a lot of wins in my career where we've made calls that were the right calls. We've made calls that are the bad calls.
"It's how Indianapolis is, you know? Some of the greatest drivers have not made it."
KV's other three cars qualified despite drivers EJ Viso, Mario Moraes and Takuma Sato all crashing heavily at various stages during the week. Tracy also had a close call on his ill-fated final qualifying run.
"I was on the verge of crashing every corner," he said. "So I was able to keep it off the wall and not destroy the car.
"We've had a tough week, KV. The cars had, in certain conditions, become very difficult to drive. We had three cars hard into the wall. So I was happy that we didn't end up going on the trailer in a box with a bunch of pieces."
Sarah Fisher Racing's Jay Howard also withdrew what would have been a safe speed to try and respond to Tracy, and ended up non-qualifying as well.
"I didn't think this would happen," Howard said. "Obviously, when you sit there in that position, the car didn't feel good on that second-to-last run. I was confident with a small change we could easily go out and do the same time again.
"I wasn't willing to let Tracy take that away from me. I had my own destiny. I felt pretty good about the car. We added a little bit of front wing to take away some of the understeer, and that definitely gave it a little more front grip.
"It was just weird. We had always been fast on our first lap and it dropped off, but I didn't expect that much of a drop."