Smith gives Dyson Laguna Seca pole
| | |
| --- | --- |
| By Matt Beer | Friday, May 21st 2010, 23:21 GMT |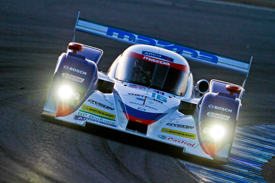 A superb lap from Guy Smith gave Dyson Racing's Lola-Mazda its first outright pole in American Le Mans Series qualifying at Laguna Seca.
David Brabham had looked set to start first again in the Highcroft HPD car as he dominated the early stages of prototype qualifying, but then Smith's late 1m12.338s earned Dyson the top spot by 0.671 seconds at the track backed by its engine partner Mazda.
Smith will share the pole-sitting car with Chris Dyson and Andy Meyrick in tomorrow's race, which will be a six-hour event for the first time.
Klaus Graf was third in the CytoSport Porsche, while Paul Drayson took on qualifying duties in his team's Lola-Judd, which suffered gearbox problems in practice, and was back in sixth behind the Intersport and Autocon cars.
Ferrari will start first and second in the GT class. Jaime Melo put Risi up front early on and stayed there, and was backed up by Johannes van Overbeek taking second for the new Extreme Speed team.
The Corvettes were next up ahead of the Rahal Letterman BMWs, while the best of the Porsches - Jorg Bergmeister's Flying Lizards car - was back in eighth behind the second Extreme Speed Ferrari.
LMPC saw a tight battle between Level 5's Christophe Bouchut, Green Earth Gunnar's Gunnar Jeanette and PR1's Johnny Mowlem, in which the latter finally edged out Jeanette by a tenth of a second.
Jeroen Bleekemolen (Black Swan Racing) took a clear GTC pole, 0.6s ahead of Butch Leitzinger in the top Alex Job Racing car.
Pos  Cl   Drivers                         Car         Time
 1.  P    Dyson/Smith/Meyrick             Lola-Mazda  1m12.338s
 2.  P    Brabham/Pagenaud/Franchitti     HPD         1m13.009s
 3.  P    Gidley/Graf/Maassen             Porsche     1m13.855s
 4.  P    Field/Field/Konstant            Lola        1m15.208s
 5.  P    Willman/Burgess/Ehret           Lola        1m15.775s
 6.  P    Drayson/Cocker/Pirro            Lola        1m16.297s
 7.  PC   Mowlem/Papadopoulos/Lewis       ORECA       1m17.800s
 8.  PC   Julian/Jeannette/Zugel          ORECA       1m17.971s
 9.  PC   Tucker/Bouchut/Wilkins          ORECA       1m18.212s
10.  PC   Sutherland/Weickardt/Marcelli   ORECA       1m18.256s
11.  PC   Tucker/Wallace/Frisselle        ORECA       1m21.221s
12.  PC   Pagerey/Wong/Ducote             ORECA       1m21.446s
13.  GT   Melo/Bruni                      Ferrari     1m22.752s
14.  GT   Sharp/van Overbeek              Ferrari     1m23.067s
15.  GT   Beretta/Gavin                   Corvette    1m23.101s
16.  GT   Magnussen/O'Connell             Corvette    1m23.201s
17.  GT   Auberlen/Milner                 BMW         1m23.350s
18.  GT   Mueller/Hand                    BMW         1m23.379s
19.  GT   Brown/Cosmo                     Ferrari     1m23.394s
20.  GT   Bergmeister/Long                Porsche     1m23.484s
21.  GT   Sellers/Henzler                 Porsche     1m23.991s
22.  GT   Robertson/Robertson/Murry       Doran Ford  1m24.750s
23.  GT   Gentilozzi/Dalziel/Goossens     Jaguar      1m26.381s
24.  GT   Krohn/Jonsson                   Ferrari     1m26.708s
25.  GTC  Pappas/Bleekemolen/Bleekemolen  Porsche     1m26.934s
26.  GTC  Gonzalez/Leitzinger/Junco       Porsche     1m27.603s
27.  GTC  Richard/Villeneuve/Lally        Porsche     1m27.797s
28.  GTC  Lewis/Aschenbach                Porsche     1m27.950s
29.  GTC  Miller/McMullen/Hines           Porsche     1m28.126s
30.  GTC  Curtis/Sofronas/Borcheller      Porsche     1m28.171s
31.  GT   Law/Neiman/Bernhard             Porsche     1m28.481s
32.  GTC  Rodriguez/Bieker/Wilson         Porsche     1m28.590s
33.  GTC  Sweedler/Kapudija/Lueders       Porsche     1m29.360s
34.  GTC  Gonzalez/Diaz/Junco             Porsche     1m29.547s
35.  GTC  Beggs/Baron                     Porsche     1m29.701s