FIA moves to clarify safety car rules
| | |
| --- | --- |
| By Pablo Elizalde | Thursday, May 20th 2010, 09:20 GMT |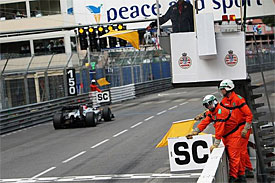 Formula 1's ruling body has moved to try to clarify the safety car rules following the incident involving Michael Schumacher and Fernando Alonso in the Monaco Grand Prix.
Schumacher was handed a 20-second penalty after passing Alonso on the final corner of the race, just as the safety car had dived into the pits.
The Mercedes driver was penalised for breaking rule 40.13 of the sporting regulations, which states, "If the race ends whilst the safety car is deployed it will enter the pit lane at the end of the last lap and the cars will take the chequered flag as normal without overtaking."
However, Mercedes, which initially considered appealing the penalty, believed the race had finished normally and not under the safety car.
On Thursday the FIA recognised a lack of clarity in the rules and said the Formula One Commission will submit a change to the rules in order to avoid a repeat of the situation.
"The problems identified during the final lap of the Monaco Grand Prix, counting for the 2010 FIA Formula One World Championship, showed a lack of clarity in the application of the rule prohibiting overtaking behind the safety car," the FIA said in a statement.
"Adjustments to the regulations are necessary to clarify the procedure that cars must meet when the last lap is controlled by the safety car whilst also ensuring that the signaling for teams and drivers is made more clear.
"These adjustments will help to avoid the problem which occurred during the Monaco Grand Prix from happening in the future.
"The Formula One Commission, upon a proposal of the F1 Sporting Working Group will submit an amendment to the Sporting Regulations to address this issue. These amendments will be considered by the World Motor Sport Council at its next meeting in Geneva on June 23."