Button: No worries about losing lead
| | |
| --- | --- |
| By Pablo Elizalde | Thursday, May 20th 2010, 09:10 GMT |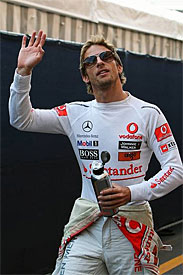 World champion Jenson Button says he has no worries about having lost the championship lead after retiring from the Monaco Grand Prix.
"At the moment, no," Button told his official website.
"We all know this is a long season - 19 races - and it's still too early to be worrying about leading the championship. Don't get me wrong, it's nice, but it's not important until the end of the season.
"But I think it shows what can happen when you potentially lose a chunk of points by not finishing, or by not finishing in those big points-scoring positions. It actually feels like a bigger blow than it actually is, because you see somebody pull away by 18 or 25 points, which is a very big margin.
"I don't think anyone's really thought about the fact that this year's world champion is probably going to score hundreds of points, which does put it in perspective a bit more, because we're used to the top drivers scoring 90 or 100 points in order to win the world championship," added the McLaren driver.
Button endured his first retirement of the season in Monaco after suffering an engine-overheating problem when one of his mechanics forgot to remove the foam bung covering the left sidepod of his car.
The Briton said, however, that he is confident the engine did not suffer any damage and that he will be able to use it again.
"Yeah, it should be fine. I turned it off pretty quickly, so I don't think it'll be an issue," he said.
Button insisted that consistency will again be key to winning this year's title, despite a new scoring system which in theory rewards drivers with more race wins.
"Absolutely. The one thing that hasn't changed is that need for consistency and reliability. Both Lewis and I have failed to finish in one race, and the whole team has got to make sure that that's the only time this year that we fail to score points.
"I think we've seen all the top teams make small mistakes so far this year. But those small errors can sometimes have bigger consequences. And that's a sign of just how much people are pushing for performance.
"But now I think we're seeing those mistakes start to lessen as the teams get a better understanding of their cars. So if you're going to fight for the title, then you've got to be scoring regularly. And, even on a bad day, you need to pick up some points, in order to keep your momentum up.
"I think we learned a couple of difficult lessons in Spain and Monaco, but I know that we'll benefit from them in the long term."