Dixon fastest in Wednesday practice
| | |
| --- | --- |
| By Steven English | Wednesday, May 19th 2010, 22:44 GMT |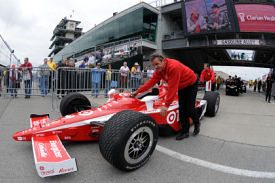 Scott Dixon continued to the set the pace throughout this week's Indianapolis 500 practice, shaving seventh hundreds of a second off his best Tuesday time to lead the field again on Wednesday.
The 2008 Indy 500 winner jumped to the top of the timesheet inside the first hour with a 226.971mph lap that would stand unbeaten for the rest of the day.
There were long periods of quiet on the track throughout the six hour session as teams limited their running. Today's session was broken up by fewer cautions, though. The first came just 19 minutes in to clear some debris from the circuit, but after that only Tomas Scheckter stopping with a gearbox problem and a mid-distance track inspection interrupted the running.
There were huge variations in workload between the drivers, with Paul Tracy and Alex Tagliani completing just 11 and 13 laps respectively, while Tony Kanaan topped the distance chart with 134 laps.
EJ Viso was cleared to drive by IndyCar's medical team, but he did not turn a lap in the session.
Penske's Ryan Briscoe finished the day with the second fastest time, lapping half a tenth - or 0.3mph - slower than Dixon.
Tagliani continued his impressive week in the first FAZZT car in third place, with Hideki Mutoh finishing up fourth after setting the pace at the beginning.
Dario Franchitti celebrated his 37th birthday today and ended the session in fifth place, ahead of Will Power.
Kanaan and Helio Castroneves were the only other drivers to post sub-40s laps, with Townsend Bell and Mario Moraes completing the top 10 behind them.
Pos Driver                 Team               Time       Speed      Laps
 1. Scott Dixon            Ganassi            39.6526s   226.971mph   68
 2. Ryan Briscoe           Penske             39.7118s   226.633mph   71
 3. Alex Tagliani          FAZZT              39.8226s   226.002mph   13
 4. Hideki Mutoh           Newman/Haas        39.8361s   225.926mph   74
 5. Dario Franchitti       Ganassi            39.8494s   225.850mph   96
 6. Will Power             Penske             39.8754s   225.703mph   76
 7. Tony Kanaan            Andretti           39.8830s   225.660mph  134
 8. Helio Castroneves      Penske             39.9002s   225.563mph   49
 9. Townsend Bell          Schmidt/Ganassi    40.0458s   224.743mph   61
10. Mario Moraes           KV                 40.0462s   224.740mph   56
11. Graham Rahal           RLR                40.0623s   224.650mph   82
12. Marco Andretti         Andretti           40.0686s   224.615mph  119
13. Ed Carpenter           Panther            40.0825s   224.537mph   46
14. Davey Hamilton         de Ferran Dragon   40.0962s   224.460mph   77
15. Vitor Meira            Foyt               40.0988s   224.446mph   70
16. Juston Wilson          D & R              40.1245s   224.302mph   35
17. Ana Beatriz            D & R              40.1315s   224.263mph   48
18. Takuma Sato            KV                 40.1329s   224.255mph   70
19. Raphael Matos          de Ferran Dragon   40.1708s   224.043mph   79
20. John Andretti          Petty/Andretti     40.1841s   223.969mph   82
21. Danica Patrick         Andretti           40.1869s   223.954mph   98
22. Alex Lloyd             Dale Coyne         40.2153s   223.795mph   64
23. Mike Conway            D & R              40.2290s   223.719mph   49
24. Simona de Silvestro    HVM                40.2401s   223.657mph   49
25. Bertrand Baguette      Conquest           40.2494s   223.606mph   94
26. Tomas Scheckter        D & R              40.2805s   223.433mph   46
27. Sebastian Saavedra     Bryan Herta        40.2824s   223.423mph   60
28. Ryan Hunter-Reay       Andretti           40.2996s   223.327mph   76
29. Jay Howard             Sarah Fisher       40.3045s   223.300mph   46
30. Mario Romancini        Conquest           40.3912s   222.821mph   95
31. Dan Wheldon            Panther            40.3967s   222.790mph   45
32. AJ Foyt IV             Foyt               40.5352s   222.029mph   20
33. Sarah Fisher           Sarah Fisher       40.5635s   221.874mph   65
34. Paul Tracy             KV                 40.6287s   221.518mph   11
35. Milka Duno             Dale Coyne         40.8074s   220.548mph   58
36. EJ Viso                KV                 no time                  0
37. Bruno Junqueira        FAZZT              no time                  0