Renault trusts Kubica will stay on in 2011
| | |
| --- | --- |
| By Jonathan Noble | Tuesday, May 18th 2010, 09:39 GMT |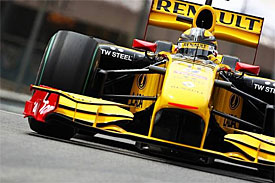 Renault is confident it will convince Robert Kubica to remain at the team next year, even if Ferrari offers him a place alongside Fernando Alonso for 2011.
On the back of an impressive start to its campaign, which has seen Kubica grab two podium finishes and challenge for the win in Monaco last weekend, Renault has become one of the positive surprises of the season.
And although Ferrari is a potential option for Kubica, sources close to the Pole suggest that his heart is pretty much set on remaining where he is if Renault can maintain its current momentum.
A decision on Kubica's future is expected to be made after the British Grand Prix, when it is understood that options in his contract need to be activated.
Speaking to AUTOSPORT, Renault team principal Eric Boullier said he was 'pretty sure' that Kubica would now be staying with the team - even if Ferrari came chasing after him.
"For him, he is working very well with the team and likes the team spirit as well," said Boullier. "I think the new packages we plan to bring and the ambitions we have for the future, everything looks very positive.
"We have kept him very informed, and I am pretty sure it is enough to make him happy to stay."
Boullier believes that one of the keys to Renault's success this season has been the strong chemistry between the team and driver - with both thriving off each other's attitudes.
"That is the key thing in racing," he said. "Obviously back in the old days, Alonso was fitting well with the team and it is the same thing we want now. It is key that the driver fits well with the team.
"The team had a big drama in recent times, and having a restructuring of the team - it was definitely very good for the team morale.
"This team has been winning championships so they know how to race and how to be successful and make a good car. Then the chemistry with the drivers, plus the results, have been a boost and brought out the best."