Williams confirms Monaco crashes' cause
| | |
| --- | --- |
| By Steven English | Monday, May 17th 2010, 15:39 GMT |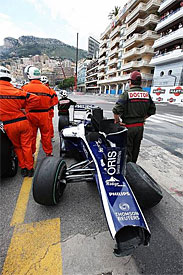 Williams has confirmed the causes of the separate accidents suffered by Rubens Barrichello and Nico Hulkenberg during Sunday's Monaco Grand Prix.
Barrichello hit the barrier at the top of Beau Rivage when something broke at the rear of his FW32, while Hulkenberg crashed into the wall in the tunnel on the opening lap.
The team initially said that it wanted to investigate the causes of the incidents back at the factory, but technical director Sam Michael today confirmed that Barrichello's crash was caused by a rear suspension failure and Hulkenberg's by his front wing, which was damaged at the first corner of the race.
"Rubens had a rear suspension failure," said Michael. "We have a good idea which part is suspect, but to be completely sure we need to await the results of materials tests back at the factory. However, it won't be an issue going forward.
"Nico had a clutch paddle sensor failure on the grid. He then touched the back of the HRT car in Turn 1 and this damaged the front wing mounting pillars. When he entered the tunnel, the front wing eventually failed and he understeered off into the wall."
Michael also confirmed that the failures were not on new parts added with the team's latest upgrade.
"The parts that failed in the race were not new designs and they have been on the car since the start of the season," he said.
He added that the accidents should not stop Williams from pushing forward with another evolution of the FW32 for the next race in Turkey in two weeks.
"Of course we have a significant amount of workload to replace the damaged parts such as the diffusers and the front wings. However, both chassis were undamaged, which is positive," Michael said.
"The FW32 was good in Monaco, certainly an improvement on the previous race, but we acknowledge that we have still got work to do to be more competitive. I am confident that our relative race pace will be an improvement on Barcelona, but as ever much depends on how the other teams manage to move forward too.
"But I can be confident that our direction of development is moving the right way. We have an upgrade plan for Istanbul, but our first priority at the moment is to consolidate the repairs on both race cars."