Kyle Busch wins at Dover
| | |
| --- | --- |
| By Diego Mejia | Sunday, May 16th 2010, 22:29 GMT |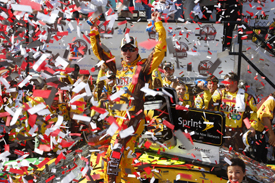 Kyle Busch claimed his second NASCAR Sprint Cup Series win of the season at Dover International Speedway after the duel for victory ended with a penalty for Jimmie Johnson a few laps from the end.
The Joe Gibbs Racing driver and the reigning champion looked set to battle for the win in the closing stages of the race, but Johnson, who led the most laps during the race, was penalised for going too fast on pit exit following his last stop and while fighting for the lead on pit road with Busch.
Once Johnson served his penalty under green flag conditions, Busch was left with a healthy lead over Richard Childress Racing's Jeff Burton and he cruised to the finish line during the last 33 laps to take his second win of the weekend, as he had dominated on Saturday in the Nationwide Series event.
Busch came actually close to winning the three races of the weekend at the track known as the 'Monster Mile', as he ran out of fuel while fighting for victory in the Trucks race on Friday after leading 172 of the 204 laps.
Johnson dominated most of Sunday's race, only looking vulnerable to Busch on restarts, when on cold tyres the Hendrick driver struggled for a few laps before being able to bring his tyres up to temperature. Every time Busch passed him on a restart, Johnson would be able to repass him for the lead, setting the scene for what looked to be an exciting finish.
However the reigning champion's mistake in the pits left victory on a plate for the 25-year-old, who had to battle communication issues after his radio apparently came unplugged early in the race, plus a loose car in most of the long green-flag runs, as only five cautions came out during the race.
"We came out right there at the right point," said Busch. "I think we were going to beat [Johnson], but I don't know. The #48 was really, really fast today.
"We were so loose. I guess it's a good thing I can drive a loose race car because I had to hang on to it. We weren't the best in the beginning. We worked on it at the end. About lap 250 or 260 we really started coming on."
A disappointed Johnson would only be able to finish 16th and a lap down to the winner, taking the blame for the penalty that probably cost him his fourth victory of the year. The Hendrick driver was up front during 225 of the 400 laps scheduled and was in the lead when he pitted for the final time.
"I had been leaving the pit box really good each time and there are some cues there from the spotter and we need to be able to calculate where we need to check up to be doing the right thing," said Johnson, who was caught at 40.09 mph in segment six of eight on pit road, the absolute limit being 39.99 mph. "Evidently I just got out of the pits much better than I did any other time.
"As I got to my mark I heard my spotter and saw my [dashboard] lights and I was conservative because I didn't want to make any mistakes in the end and I saw Kyle was going to beat me so I just kind of gave up that final segment off pit road and I got nailed."
Burton came one place closer to winning for the first time this year, taking his best result of the season with a distant second place. He ran most of the race in the top five but never showed enough the threaten the leading duo, finishing half a second ahead of Matt Kenseth, who made a two-tyre stop to gain track position early on and was able to remain near the front after that.
The race was actually one of the best for Roush Fenway Racing this year, with Biffle finishing sixth and Edwards eighth, although it was Joe Gibbs Racing that had the best day with Denny Hamlin in fourth and Joey Logano rounding out the top ten, besides Busch's victory. Gibbs now outweighs Hendrick Motorsports with five victories to three so far this season.
Kevin Harvick had a solid day finishing seventh from 30th on the grid, which was enough for him to remain at the top of the drivers' standings, where Busch now trails him by 69 points.
AJ Allmendinger looked strong early on, almost matching Johnson for pace at one point, but a missing lug nut caused a delayed pitstop and then a suspected rear tyre problem forced the Richard Petty Motorsports driver to make an unscheduled stop which dropped him a lap down. He was able to get it back but would lose it once again in the end, finishing 14th.
Earnhardt Ganassi Racing had a troubled afternoon with both drivers ending their string of good runs with suspension issues. Both Juan Pablo Montoya and Jamie McMurray were forced to go to the garage due to broken track bar mounts, which failed both within a few laps of each other.
Casey Mears, who filled in for a recovering Brian Vickers, did enough to finish the race right ahead of his Red Bull team-mate Scott Speed, taking 22nd place.
Next weekend the Sprint Cup Series teams will compete in the non-points All-Star Race at Charlotte Motor Speedway.
Pos  Driver              Car        Laps
 1.  Kyle Busch          Toyota     400
 2.  Jeff Burton         Chevrolet  400
 3.  Matt Kenseth        Ford       400
 4.  Denny Hamlin        Toyota     400
 5.  David Reutimann     Toyota     400
 6.  Greg Biffle         Ford       400
 7.  Kevin Harvick       Chevrolet  400
 8.  Carl Edwards        Ford       400
 9.  Tony Stewart        Chevrolet  400
10.  Joey Logano         Toyota     400
11.  Jeff Gordon         Chevrolet  400
12.  Martin Truex Jr     Toyota     400
13.  Ryan Newman         Chevrolet  400
14.  AJ Allmendinger     Ford       399
15.  Mark Martin         Chevrolet  399
16.  Jimmie Johnson      Chevrolet  399
17.  Clint Bowyer        Chevrolet  399
18.  Brad Keselowski     Dodge      398
19.  Kurt Busch          Dodge      398
20.  Kasey Kahne         Ford       398
21.  Paul Menard         Ford       398
22.  Casey Mears         Toyota     397
23.  Scott Speed         Toyota     396
24.  Regan Smith         Chevrolet  396
25.  David Gilliland     Ford       395
26.  David Ragan         Ford       395
27.  David Stremme       Ford       395
28.  Elliott Sadler      Ford       394
29.  Travis Kvapil       Ford       393
30.  Dale Earnhardt Jr   Chevrolet  390
31.  Robby Gordon        Toyota     386
32.  Jamie McMurray      Chevrolet  354
33.  Kevin Conway        Ford       351
34.  Sam Hornish Jr      Dodge      312
35.  Juan Pablo Montoya  Chevrolet  283
36.  Marcos Ambrose      Toyota     222
37.  JJ Yeley            Dodge      127
38.  Joe Nemechek        Toyota     67
39.  Bobby Labonte       Chevrolet  65
40.  Mike Bliss          Chevrolet  36
41.  Dave Blaney         Toyota     36
42.  Michael McDowell    Toyota     33
43.  Johnny Sauter       Chevrolet  29