Castroneves leads practice again
| | |
| --- | --- |
| By Matt Beer | Sunday, May 16th 2010, 21:45 GMT |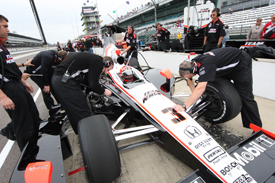 Penske's Helio Castroneves beat the Ganassi duo to the top spot again on the second day of practice for the Indianapolis 500.
With the timetable rearranged following Saturday's rain, the field was given three hours and 45 minutes of running after the rescheduled rookie orientation time today, but this was repeatedly interrupted by yellows for light drizzle on track - and then finally halted 24 minutes earlier than planned as the rain became more concerted.
In between the stoppages, the 33 drivers who took to the speedway managed to complete near 1,000 laps of running in total.
Scott Dixon and Dario Franchitti's early times for Ganassi kept them at the top of the standings for most of the session, but as the evening approached it was Castroneves who found more speed again - producing a lap of 39.6395s and 227.046mph to end the weekend fastest.
Will Power was fourth in the next of the Penske entries, while Tony Kanaan kept Andretti Autosport in contention with fifth.
Mario Moraes showed KV's raw speed on ovals by taking sixth, ahead of Dan Wheldon. The Panther driver had the unhappy distincton of causing the first crash of the 2010 Indy 500 month when his Dallara snapped into a spin at Turn 4 and came close to collecting Dixon on its way to the wall. Wheldon escaped with only a bruised foot.
The only other incident of the day was a spin in the pit exit for Ryan Hunter-Reay, whose Andretti Autosport car did not hit anything.
Ryan Briscoe was eighth in the third Penske Dallara-Honda, followed by Marco Andretti (Andretti) and a star performance from Graham Rahal, who announced Rahal Letterman Racing's IndyCar return with 10th on the time sheets.
Pos  Driver               Team               Time      Gap
 1.  Helio Castroneves    Penske             39.6395s
 2.  Scott Dixon          Ganassi            39.7875s  + 0.1480s
 3.  Dario Franchitti     Ganassi            39.8152s  + 0.1757s
 4.  Will Power           Penske             39.8937s  + 0.2542s
 5.  Tony Kanaan          Andretti           39.9070s  + 0.2675s
 6.  Mario Moraes         KV                 39.9924s  + 0.3529s
 7.  Dan Wheldon          Panther            40.0742s  + 0.4347s
 8.  Ryan Briscoe         Penske             40.0786s  + 0.4391s
 9.  Marco Andretti       Andretti           40.0910s  + 0.4515s
10.  Graham Rahal         Rahal Letterman    40.1212s  + 0.4817s
11.  Vitor Meira          Foyt               40.1553s  + 0.5158s
12.  Townsend Bell        Ganassi/Schmidt    40.2735s  + 0.6340s
13.  Danica Patrick       Andretti           40.2898s  + 0.6503s
14.  AJ Foyt IV           Foyt               40.4010s  + 0.7615s
15.  Hideki Mutoh         Newman/Haas        40.4127s  + 0.7732s
16.  Justin Wilson        Dreyer & Reinbold  40.4486s  + 0.8091s
17.  EJ Viso              KV                 40.4899s  + 0.8504s
18.  Raphael Matos        de Ferran Dragon   40.5056s  + 0.8661s
19.  Sarah Fisher         Sarah Fisher       40.5126s  + 0.8731s
20.  John Andretti        Andretti           40.5167s  + 0.8772s
21.  Paul Tracy           KV                 40.5654s  + 0.9259s
22.  Ana Beatriz          Dreyer & Reinbold  40.5945s  + 0.9550s
23.  Ed Carpenter         Panther/Vision     40.6256s  + 0.9861s
24.  Alex Tagliani        Fazzt              40.6353s  + 0.9958s
25.  Tomas Scheckter      Dreyer & Reinbold  40.7135s  + 1.0740s
26.  Alex Lloyd           Dale Coyne         40.7204s  + 1.0809s
27.  Ryan Hunter-Reay     Andretti           40.7285s  + 1.0890s
28.  Mario Romancini      Conquest           40.8544s  + 1.2149s
29.  Takuma Sato          KV                 40.8973s  + 1.2578s
30.  Mike Conway          Dreyer & Reinbold  40.9380s  + 1.2985s
31.  Bertrand Baguette    Conquest           40.9631s  + 1.3236s
32.  Milka Duno           Dale Coyne         41.0469s  + 1.4074s
33.  Sebastian Saavedra   Herta              41.1116s  + 1.4721s