BMW wins Nurburgring 24 Hours
| | |
| --- | --- |
| | Sunday, May 16th 2010, 18:17 GMT |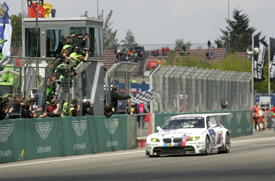 BMW's factory M3 GT2 took victory in this weekend's Nurburgring 24 Hours on the company's return to the famous endurance race.
Drivers Jorg Muller, Augusto Farfus, Uwe Alzen and Pedro Lamy came home ahead of the Farnbacher Ferrari despite gearbox problems causing some scares in the final hours.
"During my last stint we lost fourth gear," said Muller. "The problem gradually got worse. The main priority was to be careful and keep the car in the race. Everything worked out superbly in the end."
The electro-hybrid Porsche 911 GT3 of Jorg Bergmeister, Richard Lietz, Marco Holzer and Martin Ragginger had looked set to take a historic victory as it led through the night, only to stop on track with a technical problem a few hours from the end, handing the lead to the BMW.
The demise of the Manthey-run car added to the disappointment for the team that had won the last three Nurburgring 24 Hours, as its #1 entry - driven by the same Marc Lieb, Timo Bernhard, Romain Dumas and Marcel Tiemann quartet that claimed the previous victories - was taken out in a crash in traffic on Saturday night. Up to then it had looked a likely winner.
Audi also had a frustrating race. Having dominated qualifying, various problems and incidents saw its challenge fade by nightfall, although the #97 car of Marc Bronzel, Luca Ludwig, Dennis Rostek and Markus Winkelhock eventually claimed third.