Button plays down team's cooling error
| | |
| --- | --- |
| By Matt Beer | Sunday, May 16th 2010, 16:10 GMT |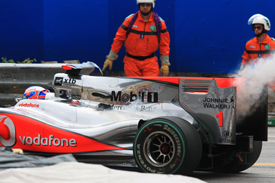 Jenson Button says he has already got over the team error that caused his McLaren to overheat and resulted in his early retirement from the Monaco Grand Prix.
The pre-race championship leader dropped out on only the second lap due to the after-effects of a cooling cover having been accidentally left on the left sidepod on the way to the grid.
"Jenson's afternoon was very disappointing one for him, through no fault of his own," McLaren boss Martin Whitmarsh explained.
"Human error caused a cooling cover to be left off the left-hand radiator on the lap to the grid - and, despite our best efforts to recover the situation, the components underneath the car got too hot, and Jenson was forced to switch the engine off when a small fire developed."
Button reckoned the issue would have gone away but for the extra period of slow running behind the safety car.
"I knew after the formation lap that there was a cooling cover left on the left-hand sidepod, where the radiator is," he said. "We thought everything was going to be okay, and it would probably have been fine if we hadn't had a safety car.
"My car quickly began to overheat and I started losing engine power, so I turned the engine off pretty sharply because the last thing I wanted was to leave engine oil on the racing line."
He is confident that the team can quickly bounce back from the mistake in Turkey.
"Today was just one of those days," Button said. "It was human error, a mistake, and that's all there is to it.
"I'm still only eight points behind the lead of the drivers' championship and we head to Turkey feeling confident that we'll be more competitive there."