Rosberg calm on Mercedes updates
| | |
| --- | --- |
| By Jonathan Noble | Wednesday, May 12th 2010, 16:18 GMT |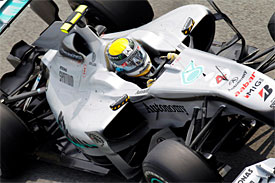 Nico Rosberg has rubbished talk that the upgrades made to his Mercedes GP at the Spanish Grand Prix mean it no longer suits him as well as Michael Schumacher.
The German struggled for pace at Barcelona last weekend with the longer wheelbase W01, with Schumacher seemingly more comfortable with the improved car.
But despite that state of affairs prompting wild suggestions that Mercedes GP had worked only to help Schumacher, Rosberg says the similarity of his and his team-mate's style make such a state of affairs impossible to achieve.
"We drive exactly the same way me and Michael, so it is not that you can build something that suits him better than me," said Rosberg in Monaco.
"The only fact is that I really struggle with understeer, which we have in the car at the moment. But we are looking into that to try to improve it because for sure it is not a good thing for Michael either. It is a bad thing for both of us, and that could be the only thing where I might struggle a bit more in the end."
Rosberg said he had worked hard with his engineers since Spain to try and understand why he had such a difficult time compared to Schumacher.
"We put a lot of analysis in, and my engineers and I seem to understand a few things about why it was difficult in general," he said. "In the end, one thing is for sure, we had a lot of understeer in the car - which we've had all year.
"But in Barcelona, with all the long corners, it was particularly difficult. And also with these tyres, there is a big risk of overloading them when you go into a corner, so you need to be very, very careful with all that and it took me a bit of time.
"Then eventually I was one tenth away from Michael in qualifying. He drove well and I think I can live with that. In the race it didn't go my way. I had an incident at the start, picked up a lot of mud on the bottom which destroyed my aero, and then it just went from there and was a disaster, so you can't really look at the race."
Mercedes GP has reverted to its shorter wheelbase car for this weekend's Monaco Grand Prix, because the suspension dynamics will be better suited to the tight street circuit.
And although Schumacher enjoyed a confidence boost from the longer wheelbase version, he understands why the team has reverted to the shorter suspension.
"The long wheelbase gives me a better range of set-up solutions," he said. "But if a long wheelbase with better set-up solutions is slower than a short wheelbase with no set-up solutions, then I guess I will take the short wheelbase. And that's what we most likely will have to face here."