Webber doubts Red Bull will dominate
| | |
| --- | --- |
| By Edd Straw and Matt Beer | Wednesday, May 12th 2010, 16:07 GMT |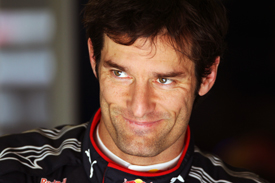 Spanish Grand Prix winner Mark Webber does not believe his Red Bull team will have the same speed advantage in Monaco that it displayed at Catalunya a week ago, and expects a much closer battle with McLaren, Ferrari and Mercedes this weekend.
In Spain Red Bull was almost a second clear of its rivals in qualifying, having also dominated much of practice, and Webber went on to take an untroubled victory.
But while the Australian is confident Red Bull will still be quick in Monaco, he believes his team will have to fight harder in order to win, as Monte Carlo is not a straightforward test of car performance.
"It was an exceptional situation that we were on pole by one second," said Webber. "I think it would be unlikely to have that type of gap here, it's a short lap anyway and it doesn't take that long to get around here.
"The other thing is that traditionally the times in Monaco have always been pretty close.
"It's a different track layout, and this place is so unique, you don't design your Formula 1 car around Monte Carlo because there's only one track like it in the year.
"It's a very demanding venue for the car and the driver, but it requires lots of different things compared to other tracks.
"You only have to win by just enough, and hopefully we can still do it here. But whether we'll be as dominant remains to be seen. I think it's going to be a very, very competitive weekend with McLaren, Ferrari and Mercedes."
But Webber emphasised that even though he expects Red Bull's rivals to be closer, he still thinks his team will be extremely competitive.
"I don't see any reason why we shouldn't be competitive here," he said. "We've shown at every single grand prix from Singapore last year that we've been pretty competitive at most venues, so I'm looking forward to seeing how we go this weekend."
The Barcelona win lifted Webber from eighth to fourth in the drivers' championship, just 17 points behind leader Jenson Button. Webber acknowledged that the victory had come at a good time for his title hopes, but insisted the championship was far from his mind at present.
"It was very, very beneficial to have the win last weekend," he said.
"We had a few sketchy results from the first four races. Obviously Malaysia was a good result but we didn't get the most out of that - I should've won that grand prix but didn't. At the others we did our best and that's what we got. It wasn't enough.
"There were a lot of points being spread out by a lot of different drivers in those first four races, so it was nice to get a maximum score. I'm not really looking at the points at the moment, there's still so long to go."