Alonso hopeful of smaller gap to RBR
| | |
| --- | --- |
| By Dieter Rencken and Pablo Elizalde | Wednesday, May 12th 2010, 15:47 GMT |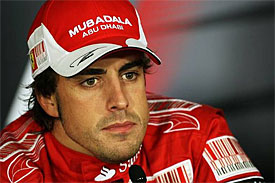 Fernando Alonso is hopeful his Ferrari team will be closer to Red Bull Racing in the Monaco Grand Prix than it was last weekend in Spain.
The two-time champion finished in second place in his home race, but was never in contention for victory in a race dominated by Red Bull's Mark Webber.
Now Alonso is hoping Ferrari will have a trouble-free weekend and be back at its best.
"We'll see. Once again they are going to be the strongest rivals, but I also think that McLaren can also have a good weekend. And I hope we can be back at our best, as maybe in Barcelona we were not quick enough," Alonso told Spanish reporters in Monaco.
"We had problems during the whole weekend and we were too far behind and hopefully here in Monaco we can be at our best and be closer to Red Bull."
The Spaniard also played down the part luck played in his second-place finish in the Barcelona race last weekend.
Alonso was set to finish in fourth before Sebastian Vettel and Lewis Hamilton hit mechanical problems.
"In Barcelona I think I wasn't lucky," Alonso said. "I had a good race, doing all we can during the whole race. If the rest didn't do their job that's their problem. If the brakes aren't reliable they have to fix them, or if the rim breaks, they also have to fix that. I don't think that's luck.
"I think they weren't prepared for that race in particular. Just like in Malaysia we didn't do our job and went out in Q1. That's not luck for them, it was our mistake.
"And in China I jumped the start so it wasn't luck, it was my error. So it's not about luck. In Barcelona we had a good weekend and some other didn't."