Drivers resigned to difficult qualifying
| | |
| --- | --- |
| By Jonathan Noble and Edd Straw | Wednesday, May 12th 2010, 13:46 GMT |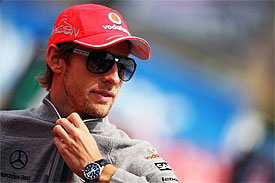 Jenson Button believes he and his fellow Formula 1 drivers will have little option but to simply get on with trying to find a clear lap in qualifying at Monaco this weekend - as further fears were voiced about likely traffic problems.
With attempts to impose a one-off split qualifying having been rejected by F1 teams, almost every driver on the grid thinks that they will face a particularly hard challenge getting the clear lap that they need to guarantee passage to second qualifying.
But despite the chorus of disapproval, Button thinks that there is little point is worrying about it now.
"It is going to be tricky for all of us," said Button in Monaco. "Normally if you find traffic you can back up to try and find space for the next lap, but this time I think you have to keep hammering around.
"I think it is going to be tricky in Q1, but we will cope. A few of us will be angry and not happy, but we will deal with the situation."
Ferrari's Felipe Massa reckons it would have been better to split the qualifying up, because then it would not have made the session such a lottery.
"Always when you go to qualifying and you can't do a lap it is not nice," explained the Brazilian. "Here is the worst track for that. We did a good job until now in the qualifying Q1, Q2 and Q3, but here it will be a big problem especially in Q1.
"It would have been nice to have a different qualifying, at least to make it more real, to give the possibility for every driver to do the best, because I think here to find a free lap will not be easy."
Pedro de la Rosa thinks that traffic problems at Monaco would not be confirmed to just qualifying though – with him expecting trouble throughout practice as well.
"Q1 will be especially difficult, but not only Q1," he said. "Any lap in free practice, especially with new tyres, you will struggle. Because of traffic and because of the speed differential between cars you have to open a bigger gap to the car in front, just to avoid catching it in the last sector. That's going to be a challenge.
"Then on top of the fact that Bridgestone's tyre selection will make it difficult to be able to slow down in the last sector as much as you want, because you have to push to keep up the temperature in the tyres. So it will be even more difficult for the drivers to open a gap to get a clean lap.
"So it's going to be difficult, but all we can do is try to get the best gap available. It's the same for everyone."
Lotus driver Jarno Trulli reckons everybody will be affected by traffic, even the slower teams.
"My point of view is that we all are going to have traffic, especially in Q1, because there's a lot of cars out on track," he said. "And then it's a question of luck, because maybe a quicker car slows down in front of me while I'm having a quick lap.
"On the other hand maybe I'm on a quick lap but I'm not quick enough for a quicker car so he's going to catch me up by the end of the lap. Both ways is not going to work. But at the moment we can't really think about it. We just have to go and see what we can do and try to be free of traffic and do our job."
Trulli does believe the qualifying lottery could give his team a good opportunity to get an unexpected result.
"Anything can happen in Monaco, even though you are so far away from the established teams. It's enough to get one good lap that you get by running and running around. For us it's more difficult to get it in, but Monaco is the place where you are going to have more chance."