Patrick denies NASCAR hurt her form
| | |
| --- | --- |
| By Matt Beer | Wednesday, May 12th 2010, 10:43 GMT |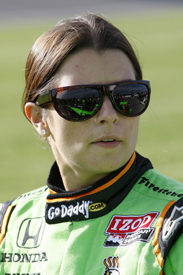 Danica Patrick has denied that her parallel NASCAR programme is to blame for her poor start to the 2010 IndyCar season.
The American is contesting a limited schedule of NASCAR Nationwide and ARCA races this year alongside her IndyCar campaign with a view to switching to stock cars in the future - although she has not done any NASCAR-style racing since the start of the IndyCar season in mid-March.
Last year Patrick took fifth in the IndyCar championship and was the Andretti team's top driver in the standings. But although her team has been much more competitive overall in 2010, Patrick has struggled for pace. She is only 16th in the championship at present, with seventh place in St Petersburg her sole top ten result so far.
But she dismissed suggestions that she would be doing better had she concentrated solely on IndyCar.
"I think that's just a really easy thing to look at, an easy thing to point to and an easy excuse," said Patrick. "I don't think there's anything to it. I keep going back to in the old days, race car drivers drove all kinds of race cars and nobody thought it took anything away.
"In fact, it should be adding. It's just an unfortunate situation and there's no other answer."
Patrick said she could not put her finger on why results had not been coming in 2010.
"Yeah, I've had a bad start to the year. You know, it happens. Nothing to say about it," she said. "Every now and again I would imagine a lot of athletes have a year where they just aren't where they want to be and I'm not this year.
"If the answer was as simple as going, 'This is what I'm going to do to fix it,' I would know that and it would have been done already. I have some ideas to take it in a better direction. At the moment, we're all working hard. It's not from a lack of trying."
Having been in the midfield at the opening road and street course races, Patrick had been expected to show better form in the season's first oval round at Kansas, but only finished 11th. She feels her pace was better than her result at the speedway suggested.
"At Kansas, I think we just picked an optimistic downforce level," she said. "I was pretty good halfway or three quarters of the way through the race. At one point I passed three quarters of the field. But it was too late. I was a lap down."