Ford ecstatic over milestone win
| | |
| --- | --- |
| By David Evans | Wednesday, May 12th 2010, 09:44 GMT |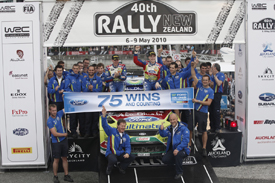 Ford team director Malcolm Wilson says last week's Rally New Zealand was one of the most satisfying events yet for the Blue Oval.
Not only did one of Wilson's M-Sport-built Ford Focus RS WRC 09s win the event - in the hands of Jari-Matti Latvala - but Ford became the most successful manufacturer in the history of the sport and Ford Fiesta S2000s collected a clean sweep of the podium in the Super 2000 World Rally Championship.
"Look at what we have achieved - it's been an incredible weekend, to take the record of 75 wins is fantastic," said Wilson. "It's been a great weekend for Jari, he's shown real maturity to come through and win like this.
"And, like you say, the Fiestas. Apart from a small problem with Jari Ketomaa's car on Friday, they've all run without any problems."
Wilson said he had his own theory on why it had taken so long for Ford to beat Lancia's record of 74 wins - a record Ford has jointly held since Sweden this year.
"I think it's because Mark [Wilford] and Georgina [Finney] in our PR department got a banner made to celebrate us getting the 75th win," he joked. "They've had it made since Mexico!"
Ford of Europe senior motorsport manager Gerard Quinn added: "The important thing is to look at the history behind those 75 wins and look at the people and the cars behind that story, it's incredible.
"Of all the cars which have won with a Ford badge on, the Focus has been by far the most successful of those. The Focus has taken the 75th win, like Malcolm says, the other good news on this event is the Fiesta one-two-three in S2000. That's a good omen because the Fiesta is the successor of the Focus."
The Fiesta RS WRC will take over Ford's assault on the world championship from next season. The next generation of World Rally Car will be based on the Fiesta S2000.