McLaren gunning for Monaco victory
| | |
| --- | --- |
| By Jamie O'Leary and Pablo Elizalde | Tuesday, May 11th 2010, 12:51 GMT |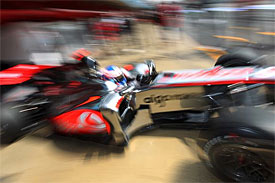 McLaren boss Martin Whitmarsh says his team is gunning for victory in the Monaco Grand Prix despite the impressive speed of rival Red Bull Racing in Barcelona.
With Mark Webber having dominated the Spanish Grand Prix last weekend, Red Bull arrive in Monte Carlo as hot favourite for victory, especially given its qualifying pace on a track where grid position is vital.
Whitmarsh, however, believes his drivers' performance in recent races has been encouraging despite Red Bull's pace and he reckons McLaren will be up for a fight in Monaco.
And he says he would welcome a dry race, despite that meaning Red Bull's advantage is likely to be bigger.
"If you ask drivers, they'd rather have a dry Monaco," said Whitmarsh during a phone-in on Tuesday. "I think it's a very tight and scary place without the rain. I think our drivers are both very good in the wet though.
"Their performance relative to the awesome speed of the Red Bulls has been pretty good, so I fancy our chances actually.
"I think Monaco is a unique circuit. Red Bull may have had impressive qualifying pace in Spain, but we got a bit closer in the race, and we have two drivers who are super and McLaren has won Monaco 15 times - many more times than any other team.
"And we're trying to make it 16, wet or dry or a combination."
Whitmarsh insisted splitting the drivers into two groups would have been his preferred choice for qualifying, as he reckons everybody will face a hard time trying to get a clean lap.
"I think Q1 in Monaco will be very, very difficult and it's difficult for all of the cars," he said. "At the moment we have to accept that there are six cars that are very difficult to avoid.
"They have been in the order of six/seven seconds slower and when you're trying to open a gap you have cars behind you so you can't back off, and it's a circuit where you're going to catch cars and a circuit at which it's very difficult for those cars to get out of the way, even if they want to.
"I think it's very difficult. By choice, I'd advocate that we divided it up somehow, either by splitting the field in half so you reduce the number of cars and don't have to manage the space quite so on such a small track, or you have a session if you thought perhaps unkindly that the six slower cars were going to fight it out among themselves, that they have the first five minutes to themselves, decided on order of merit, before the rest of the cars get onto the track.
"It's always been difficult, but with more cars and a greater performance differential, there will be controversy. There are some, and I'm not one of them, who think that controversy and stewards' hearings after the event are entertaining. I don't share that view, but it's what some people believe."