Mercedes: Too early to rule out title
| | |
| --- | --- |
| By Jonathan Noble and Pablo Elizalde | Tuesday, May 11th 2010, 10:19 GMT |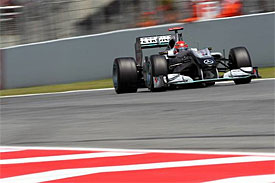 Mercedes GP CEO Nick Fry says it is still too early to admit defeat in this year's championship despite a slow start to the season.
The current world champion squad has been unable to be in the mix for victories so far and it's in fourth place in the standings, having scored two podium finishes in five races.
Fry, however, reckons the kind of comeback performed by McLaren last year shows that a team with resources can bounce back.
And he insists Mercedes is not ready to throw in the towel.
"I think talking about where this is going to end up at the end of the year is massively premature," said Fry. "I think Christian [Horner] will say the same thing, with 25 points for a first place there is a lot of races and a lot of points to be won before now and then.
"The performance of McLaren last year from a miserable performance to a great performances at the end shows what can be done if you have the resources to do it.
"I think either for those of us who are a bit slower than Red Bull to admit defeat or for them to declare success would be premature in the extreme."
Fry is also convinced his team is likely to do better in this weekend's race at Monaco than last weekend's in Barcelona, where Michael Schumacher finished in fourth, but over a minute off race winner Mark Webber.
"I'm optimistic for Monaco," he said. "I'm not unrealistically optimistic but I think we can do relatively better than we were in Spain.
"I think the interesting thing about Monaco will be the casino of the first part of qualifying. I know everyone is slightly concerned on the one hand but on the other hand it will be slightly interesting but on the other hand you hope it is not your team that is caught out because it is inevitable someone will."
Fry said his team, which used an updated car in Spain, will revert to the shorter wheelbase machine for Monaco.
"There is some specific front suspension for Monaco so it will be different again. As always we do some unique changes for Monaco, because the cars designed for circuits like Barcelona won't get around the hairpin."